Visual Arts
Review: Mike Kelley at the Museum of Contemporary Art, Los Angeles
Massive Retrospective for Influential Artist on Display through July 28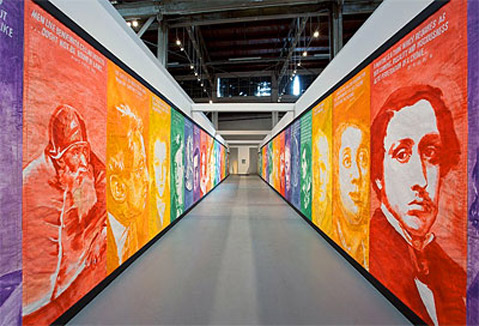 This gigantic exhibition has already landed in two other major museums — the Stedelijk in Amsterdam and the P. S. 1 annex of the Museum of Modern Art in New York — but there's a strong sense of homecoming for Mike Kelley at the Los Angeles MOCA, which is offering the largest version both in number of works shown and in square footage. Mike Kelley fills the entire Geffen Contemporary building, spills over into a small gallery at the MOCA on Grand Street, and even leaks onto a trailer outside the museum where there sits a life-sized replica of the artist's childhood home. Although this gargantuan scale requires determination and fortitude on the part of the visitor, the effort is well worth it, as Kelley stands preeminent among artists in the period between his emergence as a force on the L.A. scene in 1978 and 2012, when he tragically took his own life. Best known for the project "Half a Man" (1987-1993), in which he sewed together large numbers of stuffed animals, Kelley was a protean figure who created in a bewildering array of media. From performance art to drawing and painting, rock music and video, sculpture and installation, and even such pseudo-"crafts" as felt banners and home carpentry birdhouses, Kelley never stopped making interesting, anxious objects, and never stopped expanding the concept of what contemporary art could be.
Upon entering the cavernous Geffen space, one encounters a series of installation pieces from an ambitious late project of Kelley's known as Extracurricular Activity Projective Reconstructions #2-32 (Day Is Done) that was first shown as a labyrinth of 25 interconnected rooms at the Gagosian Gallery, New York, in 2005. For this epic journey/fractured musical, Kelley mined a trove of discarded high school yearbooks for images that then served as points of departure for the restaging of what became, under Kelley's direction, a panoply of disturbing memories. In one section, an abandoned bathroom stall, minus the plumbing, supports a pair of double-sided video screens. One screen projects short clips of Kelley in a red vinyl devil costume, talking about his father, while the other portrays an innocent-seeming young boy's trip to a rather sinister barber shop. Above it all, there's a cryptic warning stenciled in institutional-looking block capitals that reads, "NO DRINKING ON FLOOR." While each of these elements, taken on its own, might be the work of any provocative contemporary artist trained in the post-punk art school atmosphere that Kelley did so much to create, in this context, the impact is powerful to the point of overwhelming, as more such arrangements radiate outward in every direction, each one executed with the same sure sense of where the balance lies between holy dread and mere anarchy.
Some of the most exciting sections of the show come from early in Kelley's career, when he was still at Cal Arts. His wonderfully clever birdhouses remain among the most effective critiques of minimalism and conceptualism in the history of art. Taking cues from the abstract language of minimal sculpture, Kelley appropriated the craft techniques of the home carpenter and created a series of impossible structures catering to such imaginary creatures as "wide birds," "tall birds," "near birds," and "far birds." Throughout his career, Kelley turned to popular culture and craft materials both for inspiration and to offset the sophistication of his highly informed thinking in relation to art history. In a way, all of Kelley's work represents his attempt to come to terms with the legacy of abstraction, and to present an alternative to what he considered the reductive strategies that had cut fine art off from the public at large. If you're interested in contemporary art, you won't want to miss this fascinating show. Love it or hate it, you won't forget Mike Kelley.