Film & TV
Review: Chinese Puzzle
Romain Duris, Audrey Tautou, and Cécile De France star in a film written and directed by Cédric Klapisch.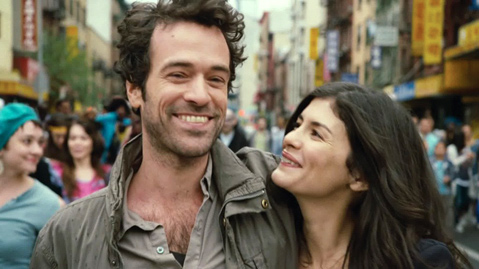 Chinese Puzzle, the final film in French writer/director Cédric Klapisch's romantic trilogy, can't quite decide what kind of film it wants to be. Like the first two films in Klapisch's cinematic triptych, the story follows handsome, hapless French novelist Xavier Rousseau (Romain Duris). In the midst of Rousseau's writer's block, his English wife, Wendy, leaves both Rousseau and their home in Paris, packing up their two kids and taking them to live with her new American boyfriend in New York City. Rousseau moves to N.Y.C., settles down in Chinatown, and convinces American Nancy (Li Jun Li) to scam immigration and take part in a green-card marriage with him so he can remain in America with his children. At the same time, his old friend and fellow expatriate Isabelle (Cécile De France) asks Xavier to be the sperm donor for the baby Isabelle so desperately wants to have with her American partner, Ju (Sandrine Holt). As if that wasn't enough drama, Rousseau's old flame Martine (Audrey Tautou) has been taking a heck of a lot of business trips to N.Y.C., and with each trip, the relationship between the exes grows more and more complicated.
It's a messy film, meandering at the beginning, manic in its final minutes as it races toward its finish line. But it also can't decide whether it wants to be well-observed realism or an Amélie-esque, whimsical postmodern fairy tale, a philosophical meditation or a good old-fashioned romp, French farce style. It's ambitious and admirable of writer/director Klapisch to blend genres, but two hours was just not long enough to tell all the stories he so clearly wanted to tell. And even though it's a mess, it's kind of a fun one to watch unfold. The cast charms at every turn, even when the plot is confusing or an emotional choice makes little to no sense, and the actors manage to make every piece of the story work well enough to keep the audience engaged. What Chinese Puzzle lacks in depth, it makes up for in its powerful panache. Don't go in expecting perfection. Be prepared to have a ton of fun.