Film & TV
Review: Think Like a Man Too
Kevin Hart, Gabrielle Union, and Wendi McLendon-Covey star in a film written by Keith Merryman and David A. Newman and directed by Tim Story.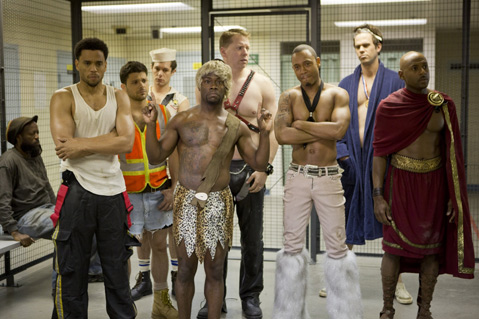 The 2012 romantic comedy Think Like a Man brought together its powerhouse ensemble cast to tell the story of four women who stumble across a book of dating advice for men and decide to use the advice to their advantage, and when the men realize they're being played, they retaliate with similar stealth. Its sequel, Think Like a Man Too (which took box office first place this past weekend, its opening, with a $30 million haul), follows the couples a few years down the line as they caravan to Vegas for a wedding. Everyone is now at different places in their respective relationships, and with this shift comes a whole new slew of problems. Lauren (Taraji P. Henson) and her boyfriend, Dominic (Michael Ealy), have both been offered their dream jobs on opposite sides of the country; Mya (Meagan Good) is haunted by the promiscuous past of her boyfriend, "Zeke the Freak" (Romany Malco); Kristen (Gabrielle Union) wants to have a baby with her reluctant partner, Jeremy (Jerry Ferrara); and bride-to-be Candace (Regina Hall) must maneuver her way around the impossible-to-please mother (Jennifer Lewis) of her fiancé, Michael (Terrence J. Corwley). Comedian Kevin Hart manically plays the ringmaster of this four-ring circus, providing both antics and voiceover.
Think Like a Man Too moves like a bat out of hell. It's a speed demon of a rom-com that refuses to leave its audience bored for a millisecond, but sometimes it leaves you wishing you had a chance to breathe during the hour-and-45-minute runtime. That said, the film is always tons of fun and intermittently laugh-out-loud funny. Sure, it moves at a seemingly methamphetamines-induced pace, but that doesn't stop it from bringing real heart to the relationships it explores. It's impressive that the movie can cover so much ground in such a limited amount of time. It's also refreshing to see a minority ensemble cast hold center (and equally refreshing to see its white characters good-naturedly poked fun at), and a welcome sight to see the rom-com, now considered an endangered animal in the film world, free in the wild.