Business
The Promise of Printeer
Meet Mission Street Manufacturing, Santa Barbara's 3D Printing Startup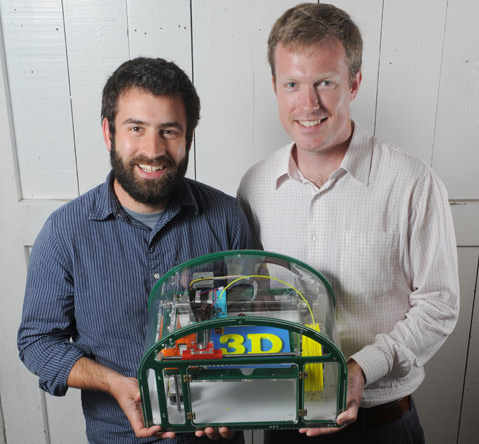 School just got out for summer, but last Monday morning, a bunch of kids were back in Santa Barbara High's robotics lab, eyes wide open, grins ear to ear, brains working in overdrive as they explored the possibilities of 3d printing. They weren't new to the technology ​— ​it was, after all, a summer camp dedicated to learning about this fastest-growing segment of high-tech hardware ​— ​but this was the first time they, or really anyone, had ever seen the Printeer, the world's first model developed solely to educate and inspire adolescents and teens.
Compared to existing 3d printers ​— ​which tend to be either very expensive, very slow, very technical, or a very dangerous-looking mess of robotics and wires that you must build yourself (or all of the above) ​— ​the Printeer is a sleek, smart blend of colorful hardware and easy-to-use software that takes whatever you sketch on an iPad, kicks it into three dimensions, and then, laying miniscule layer upon miniscule layer of eco-friendly plastic, prints your solid object within about 15 minutes. And all that for the current price of only $550 per printer, compared to the $1,000-$2,000 fetched for popular mass-market versions, which still require an advanced understanding of design programs.
Though now attracting the attention of educators from Japan to Egypt as well as nabbing headlines on newspapers and influential tech websites across the globe, the Printeer is not another success story out of the Silicon Valley. It was developed on Santa Barbara's Westside by a startup company called Mission Street Manufacturing, which was founded almost exactly one year ago by 30-year-old Brian Jaffe, a Portland-raised, Princeton-educated engineer who served five years in the U.S. Navy. "We're not joking when we say kids get excited," said Jaffe last Monday in the lab, smiling at the swarm of children buzzing around him as one teenager's big-headed, cartoony design came out of the machine. "This is what I live for."
Apparently, Jaffe is not the only one. On June 10 of this year, Mission Street Manufacturing unveiled the Printeer via the fundraising website Kickstarter, hoping to raise $50,000 in one month to build the first 100 printers in the Mission Street garage. Almost immediately, the campaign annihilated the target, eclipsing the $50,000 in just eight days and, as of press time, raising more than $100,000. And there's still two weeks to go.
To Jaffe, the global excitement speaks to the just-being-tapped power of the technology. "As humans, we've gotten extremely good at making machines that just do one thing," he said, explaining the disruptive nature of his work. "With 3d printing, we have one machine to make an infinite number of possible things."
Dream Realizer
After graduating from Princeton in 2006, Jaffe joined the Navy as an officer because he didn't want a desk job but wanted to put his degree in aerospace and mechanical engineering to work in a more adventurous setting. Soon after leaving the service in 2011, Jaffe was back home in Portland attending a legendary Hanukkah party thrown every year by the parents of his friend Gabe Rosenhouse, whom he'd kept in touch with since middle school when they partnered science fair projects (8th grade example: testing the speed of sound through various temperatures and gases). Jaffe shared his dreams of starting a 3d printer company with Rosenhouse, who was then working on a graduate degree in neuroscience from the University of Chicago; they kept the conversation going while Jaffe spent a brief six months in business school at MIT. By the spring of 2013, Jaffe had dropped out, and he convinced Rosenhouse to leave Chicago and move to a home in Santa Barbara near the corner of Mission and Chino streets, which Jaffe had purchased as an investment property years earlier with some inheritance money. "It was still just a vague notion then," recalled Jaffe. "Hey, let's go to California and build something for the summer!"
Jaffe's vision quickly crystallized into a 3d printer that was aimed at K-12 schools and their teachers and students, who he believed would be inspired both intellectually and creatively by the before-your-eyes process as they learned valuable engineering techniques, as well, particularly iteration, where small tweaks are made repeatedly to reach a final goal. "Kids absolutely love 3d printing ​— ​it's like the next closest thing to magic," he told me last year, when the Printeer wasn't much more than scribbles on butcher paper hanging off his living room walls. Last week, he equated the experience to his science fairs with Rosenhouse, explaining, "If we hadn't been making crazy apparati since middle school, we wouldn't have had the confidence to do this."
So starting in June 2013, they assembled a team of college interns from Cal Poly and UCSB and eventually enlisted the full-time services of mechanical engineer Joe Marino (who just got his graduate degree from Cal Poly this month) and software designer Joe Kimmel (one of Gabe's friends from Chicago). The West Mission Street home suddenly morphed into a stereotypical start-up headquarters ​— ​every square foot both a bedroom and office, canned food for dinner, an extra Airstream in the driveway, an AstroTurf putting green out back. Jaffe dumped his own savings into the project and also asked for money from family and friends, amounting to six figures of funding. The company name came naturally, as did the logo: a white, three-dimensional castle image based on the City of Santa Barbara's official flag.
The summer went well, but then the interns left, and Rosenhouse was supposed to go back to Chicago, as well. Luckily, said Jaffe, he had "caught the fever." Explained Rosenhouse, "I stayed because of the business we were in, the people we were working with, and, frankly, the town. This was a nice place to move to from Chicago." Nonetheless, they admitted it was "a little scary" that fall, with just two people on a massive project. By January, they'd developed the stylish shell and the software basics, but the prints kept coming out wispy. "We're making a printer for kids, so we didn't need micron precision, but there was a bar," said Rosenhouse, pointing to a wispy blue chess piece as evidence of those "dark times" and explaining, "It couldn't look like that." One of their professors/advisors from Cal Poly connected them with Marino, and he tackled the toughest challenges in what he described casually as a "weekend project," explaining, "This kind of stuff is my bread and butter."
Come February, the Printeer was sailing toward reality, and by the spring, Mission Street Manufacturing accomplished what many start-ups never do: delivering their concept, almost exactly as envisioned, and on their self-imposed, one-year deadline. Kickstarter was the obvious next step, said Jaffe, who believes the site is to 3d printing as Nashville's iconic Bluebird Café is to country music. "You don't have to go to the Bluebird Café to be a country music star," said Jaffe, "but why wouldn't you?"
By the robotics lab session last Monday, the Kickstarter money was rolling in, Bloomberg, Mashable, and Engadget were covering the release, and distributors from Singapore and Australia to Switzerland and Turkey were calling. That afternoon, Jaffe finally got to shave off the "product beard" he grew when they delivered the first three Printeers to La Cumbre Junior High, Mission Street Manufacturing's first official customer. "It feels great," said the freshly shaven Jaffe. "I'm incredibly proud of what our team has achieved over the last year. We've built the product we envisioned, and I'm thrilled that it's now getting out into the world."
Start-up's Second Step
This summer, despite the resounding, if early, success, the scene at the two-story, West Mission Street, Craftsman-style bungalow hasn't changed much. There's still butcher paper on the walls, laptops and computer screens in every room, the smell of coffee in the kitchen, and a manila envelope hanging from the freezer that reads: "Mini pizzas and tamales. $1 each. Thank you!" A yellow lab named Layla roams the property these days, and an inflatable red dinosaur hangs from the second-floor balcony, the same one that software expert Kimmel saw at his last start-up in Chicago. Out back, a Ping-Pong table has taken over the putting green, and the Airstream is gone, but outdoor housing still exists. "We make minor sacrifices," said Marino pointing to his "room" behind the garage. "It's actually a pretty nice tent."
The biggest difference, however, is in the garage, which Marino morphed into a professional-grade, albeit small, factory for Printeers. There are 15 stations with color-coded workspaces and tools, each calculated to take roughly the same amount of time, ideally adding up to about eight hours per finished Printeer. That's where the current team of 14 people ​— ​which now includes four students from Dos Pueblos High's Engineering Academy, who Jaffe called the "smartest kids in Santa Barbara," and five imports from Chicago universities and Ohio'a Oberlin College, including their first marketing intern ​— ​is hard at work building the more than 160 Printeers that have been promised to backers of the Kickstarter campaign. More critically, they are perfecting the manufacturing process and documenting it thoroughly along the way so it can be easily moved to a bigger factory one day. Meanwhile, inside the house, Kimmel is leading the software team as they scale up the software in anticipation of exponential user growth in the months to come. And the search for serious, seven-figure investments never stops, money that will be needed to take Printeer to the next level. "We need capital," said Jaffe, "but it would mostly be for more people."
That's because Jaffe has strategically kept costs quite low, opting for a $10,000 laser cutter to build the frames instead of the $200,000 mold-injection machine. The raw materials are basically just metal rods and bearings, the acrylic sheets for the casing, and the plastic filament for all of the fittings and gears. And guess what makes the filament into the finished pieces? Yup, a bank of 3d printers that rely on computer-aided design, or CAD, software. "It's amazing that a young company like us can make parts this complex," said Jaffe, holding the Printeer's "slider" that took 25 versions and about three weeks to perfect, compared to the tens of thousands of dollars and months it would have required to get it machined in the traditional way. "It's only because of 3d printing."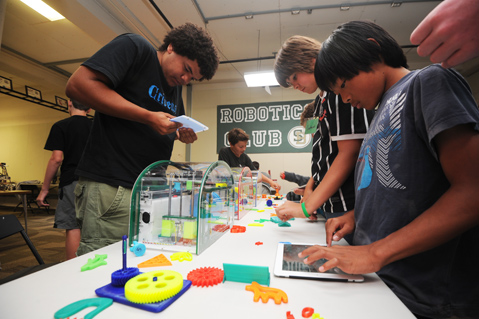 The Promise of 3d Printing
Despite that glimpse of what this technology enables, 3d printing still hovers in mainstream minds as a cool yet somewhat ancillary concept ​— ​a fun way, we think, to make more plastic crap. Because the focus is on educating and inspiring K-12 students about engineering and technology in general, the Printeer jumps that hurdle straight out of the gate, but Jaffe makes no bones about how influential he believes 3d printing will become in the years to come.
"We're gonna 3d print houses, we're gonna 3d print organs, we're gonna 3d print food, and we're gonna 3d print moonbases if we ever go back to the moon," said Jaffe. The strongest evidence to him is that there are 1,000 other companies around the world like Mission Street Manufacturing building their own 3d printing technology: small, results-driven, and full of smart, impassioned, and even idealistic young people. And unlike many other recent high-tech histories, the industry is not being led by a handful of corporations, so evolution happens quickly without bureaucracy or budgets getting in the way.
"I'm an evangelist ​— ​I love the technology, and I think it's gonna change the world," admitted Jaffe, as the laser cutter hummed behind him and Dos Pueblos students put together the fourth Printeer ever made. "But I'm not blowing smoke either. The train has left the station, and it's not slowing down."
Start Up Events
Mission Street Manufacturing is just the tip of the iceberg when it comes to Santa Barbara's bustling start-up community. Here are some upcoming events to get involved:
StartupSB Summer Demo Night: TrackR, Salty Girl Seafood, FuelBox, Smartstones, and others will present on July 17 at the Santa Barbara Museum of Natural History. meetup.com/startupsb.
Maker Faire: Inventors of all shapes and sizes will gather at the Santa Barbara Public Library this October. sbplibrary.org.
Startup Weekend #4: Bring your best ideas and team up to take home funding and fame this November. santabarbara.startupweekend.org (website will be updated with this year's event soon).
Upglobal Summit: In January 2015, Santa Barbara will host the StartUp Community Champions from the western half of North America. up.co.
—