Film & TV
Review: Transformers: Age of Extinction
Mark Wahlberg, Stanley Tucci, and Nicola Peltz star in a film written by Ehren Kruger and directed by Michael Bay.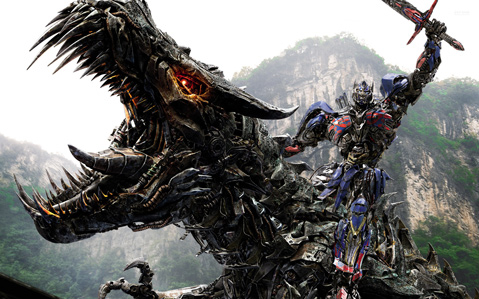 For the first 15 minutes, this film is surprisingly not that bad. It opens from a stationary perspective in outer space overlooking Earth, with outlandishly large spaceships entering the picture from behind. You know, Star Wars. Then, cut to the lush surface of the planet where cute dinosaurs roam, until the scary spaceships alter the course of Earth's future history. A bit like, maybe, Prometheus. Then, fast-forward on the same planet, soaked in rural Americana — cornfields, flapping Old Glory, and a rustic country barn soon to be invaded by a giant robot. Real Steel or The Iron Giant, anyone?
After that, it becomes a Michael Bay movie, and we drown. The story in this allegedly refreshed fourth chapter of the franchise based on cartoons based on a popular toy is confusingly obtuse. Wahlberg plays a junk-repairing engineer named Cade three years after the mayhem from the last Bay-directed debacle leveled Chicago and lost the good Autobots their cachet with our dopey government. Out on a picker's buy, he finds a big truck that turns out to be comatose Optimus Prime, the head Autobot. Meanwhile, the evil Decepticons have been unwittingly cloned by Stanley Tucci, who has managed to dig up the secret of transformium, the unstable element that gives these giants life. No, really, transformium, which scientists will tell you is very close in molecular structure to unobtanium, discovered by a screenwriter exposed to unimaginitivium.
But there is far worse here than an idiot script here, and it's Bay's shameless DNA. Cade finds Optimus Prime in the ruins of a movie palace. His surfer-sidekick Lucas wonders what kind of place this theater might be, sending Cade into a rhapsody about how people came from miles around once and filled it, as if he didn't understand how movie culture died.
Nowadays, Bay does fill theaters. This junky catastrophe made $100 million last weekend. But in the old days of palaces, everybody went to the movies — not just the hordes of teens and geeks who tend to devour Bay's masturbatory spectacle-making, property-damage porn. Bay artlessly presents the apotheosis of tantrum behavior; his aesthetic is based on 9-year-old children kicking down block houses, with rich CGI detail and no bigger picture. The movies aren't even richly felt entertainments. Godzilla at least offers us the sad regret of humans meddling with elements. You feel toxic walking out of a Bay movie because they celebrate the urge to smash but never introduce any human context — from slapstick to tragedy — that would give the undeniable momentum a chance for release.
It's wrong to blame Bay's failure merely on commercialization, especially after seeing The Lego Movie turn a toy product into magical metaphors about creativity and work. Bay could have made movies about the exciting possibilities of change. Instead he keeps serving us big bowls of smelly transformium.