Sports
Santa Barbara's World Cup Connections
Two Restauranteurs Playing Host to American Fans in Brazil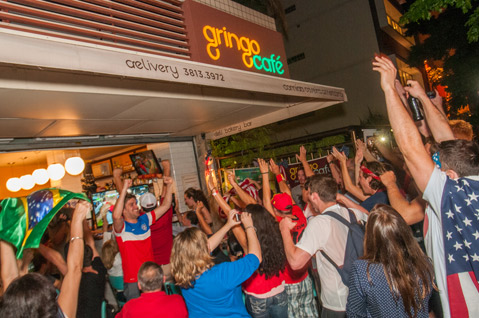 Brazil and the 2014 World Cup have captivated the United States. TV ratings for soccer games in the U.S. are at record highs. Since I moved from Santa Barbara to Rio de Janeiro, in late February, the city has been preparing for the massive influx of tourists expected to arrive for the games.
Fans from the United States are the largest group of foreigners who bought tickets for the 2014 FIFA World Cup Brazil. According to the association, U.S. fans purchased about 200,000 tickets. Since the games began on June 12, I have been hearing English spoken with American accents on the streets, when normally all I ever hear is Portuguese. It's evident the statistics are right, though now that the U.S. is out of the tournament having lost to Belgium on Tuesday in overtime, how many hang around in the days to come remains to be seen.
In Rio, Americans are for the most part rallying at two bars for the games, Sam Flowers's Gringo Café and Jason Galeria's Blue Agave. Both businessmen have Santa Barbara ties, and both have opened their establishments in the South Zone (Zona Sul) of Rio, where the richest neighborhoods of this city are located. They've been making a killing at the cash register this month.
Flowers grew up in Santa Barbara, graduating from Santa Barbara High School before jet setting across the country to attend college at Cornell, in upstate New York. He moved to Rio 10 years ago and opened Gringo Café in 2010. Galeria was raised in Prunedale, California, and studied international relations at UCSB before moving to Rio in 2003.
"I decided to open a restaurant in Rio instead of California because competition in the U.S. is fierce and everything has been done, so it's really hard to be different," said Flowers, as we sat at a small table on the cobble stone sidewalk in front of the Gringo Café. He'd always wanted to open a restaurant, and realized that there was a real niche for an American diner when he first toured Rio. "It didn't exist then," he explained.
Galeria used to live in an apartment next to lower State Street. He and his friends liked to enjoy Santa Barbara's nightlife; the Blue Agave was one of their favorite spots. Years later, he opened a bar inspired by that S.B. nightspot in Rio.
Blue Agave opened in a tourist hotspot in Ipanema five years ago. With the first location experiencing great success, Galeria and his business partner opened a second store two years later in Copacabana.
According to Flowers, the World Cup will double his monthly profits. It is straining the resources of the city, and on the restaurant. The unemployment rate in Brazil is 4.5 percent.
"Everybody that can and wants to work is working," said Flowers. "It's really hard to hire employees, train them and keep them. I'm having trouble keeping enough staff to meet the demand of all the customers, and when I call my suppliers, they are running out stock."
For the Blue Agave, the World Cup means "way more business, and way more people coming through during the day," said Galeria, who admitted with his cool collected California accent that, normally, the bar is closed during the day "because it doesn't get a lot of foot traffic."
He explained, "This is more of a night bar. There is nothing like the Brazil or the U.S. games, those are the two biggest draws. The U.S. versus Portugal was the fullest I've ever seen the bar. That was a good game."
Flowers mentions that his large American crowds of customers are the result of his partnerships with The Rio Times, a newspaper in English for the Rio community, including the American consulate employees that have also promoted and sponsored events for the USA games at the Gringo Café.
Galeria says the large American crowds at his bars are a result of word of mouth and having an English speaking wait staff. He explained, "When people find a bar that they can communicate in English, then that's where they go to, it makes things easy on tourists."
"We were walking on the boardwalk in Copacabana a couple weeks ago when Jason approached us," said Tracy Miller from Los Angeles, California, while standing with her two travel friends. "He told us he was American and that he owned a bar near by. We've been going to the Blue Agave to watch most of the games."
It's clear that these Santa Barbara entrepreneurs have done well for themselves in Rio and the World Cup is filling their pockets with good money. Exactly how much remains a mystery, especially with America now out of the tournament, but these Californians behind their registers have already scored winning goals in this "country of soccer" called Brazil.