Living
Afghan Dental Relief Project Ready for Next Level
Santa Barbara Dentist Plans Permanent Clinic in Afghanistan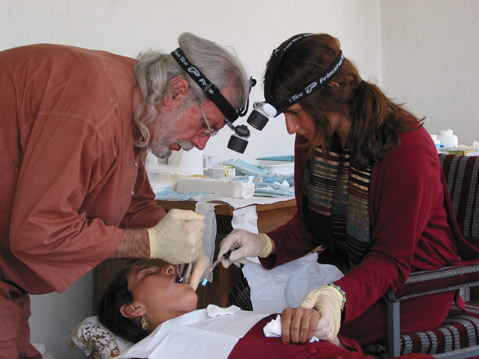 In 2003, Santa Barbara dentist James Rolfe came across an article about three women going to Afghanistan to treat victims of PTSD (post-traumatic stress disorder). Instead of putting the article down and going on with his day, Dr. Rolfe picked up the phone and asked to go along. The poverty and vulnerability he saw upon arriving in Afghanistan affected him immediately. Within a country of some 30 million people, Rolfe said he saw "resources in manpower and [natural] resources but no infrastructure to really use it." Eleven years later, thanks to Rolfe and his Afghanistan Dental Relief Project, this is changing. The project started the Kabul Dental Clinic and Training Center, which offers basic dental services, and Rolfe is on the verge of expanding to a permanent dental clinic, hoping to extend nonbasic, often life-saving dental procedures.
The mission began when Rolfe returned to Afghanistan, this time with a homemade, portable dentist's office and base camp. Before that, what passed for dental care in the war-torn country often amounted to a barber ripping out sore teeth without anesthetics. With 90 percent of Afghans having never seen a real dentist and 70 percent malnourished, dental problems were extreme. Abscesses were not uncommon and often led to septicemia, which can be lethal without antibiotics. Word that an American dentist had come offering free dental care spread fast among rural communities, and soon Rolfe was helping more than 60 people a day. Many of the orphaned boys whom Rolfe treated would become his assistants, thus leading to the Kabul School of Dental Technology.
Rolfe returned home to Santa Barbara, and with the help of area craftsmen, he converted a 40-foot shipping container into a modern dental office with three chairs, a sterilizing room, and a complete dental laboratory, all self-contained with a water supply and electricity. In 2007 he shipped the container and an additional 60 tons of dental supplies and equipment at his own expense to a site in Kabul, donated by a generous Afghan-American family. When asked about the difficulty of getting dentistry applicants, Rolfe said it was quite the opposite. "We've had signs we had to take down because too many people would apply. The people are so hungry for knowledge and really want change in their county."
After a car bomb, two scams, 100,000 patients treated, and 11 years since the birth of the Afghanistan Dental Relief Project, Rolfe is on the brink of taking it to a new level. He recently worked with Afghanistan's Ministry of Public Health to obtain permits to provide more complex, nonbasic dental services to Afghans for a small fee, such as endodontic treatment or prosthetic restorations. For non-Afghans, however, the fee is equivalent to what they would pay in Dubai, and the treatment of only 16 non-Afghans covers the clinic's entire monthly operating expenses.
On getting things accomplished with the Afghan government, Rolfe says, "It's like water on a stone; you just keep pouring the water, and eventually the stone will dissolve." Difficulties with the government did not stop Rolfe from reaching his objective. He now has the land prepared along with over two million dollars' worth of dental equipment ready to sustain the clinic for five years. He has the passion, the resources, and the manpower to take this next step, but it remains on hold for a lack of financial support.
"I have plenty of enthusiasm, and the locals are equally enthusiastic," said Rolfe. "It's just getting the finance. For years, 'Afghanistan' has a negative connotation, so many are hesitant to donate even when it is much needed." With everything and everyone ready, once Rolfe receives financial support, the project could be up and running in a matter of weeks — complete with first-class dentists, students, and complex dental procedures — all this to re-create a long-lost dental infrastructure in Afghanistan.
Today, Rolfe can be found in his successful dentistry clinic near the Lobero Theatre. His self-built office surrounds his patients with the sounds of nature and artifacts reminiscent of a cultured life. He has managed to live a life — performing dentistry for no cost in a Santa Barbara commune and now helping thousands in Afghanistan — that intertwines his passion to help with his skills as a dentist. Rolfe, who is 75 years old, continues to work 115 hours a week and lives well below the poverty line. Except for his basic needs, he gives all he makes to his Afghanistan project, and he's nowhere near ready to slow down. In the future, he sees a first-rate dental infrastructure providing Afghans with health care, jobs and education. "We need to be more active," Rolfe said. "If we feel something in our heart, we need to act on that, and that needs to form the basis of our existence."