Voices
Germany Awake, America Asleep?
Differing Views on Information Capital and Spying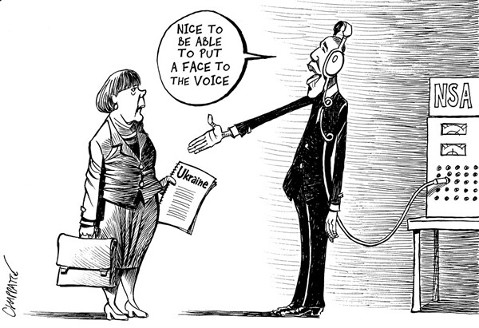 On a visit to Munich, Germany, wildly differing views between the European Union and the U.S.A. are immediately apparent on the frequently talked about (over here) subjects of information capitalism, NSA spying, and American "dominance." They can teach a lot about ourselves. The German and French perspectives on issues pose genuine cognitive dissonance.
Facebook founder Mark Zuckerberg recently wrote in the 125th anniversary issue of the International Wall Street Journal that if we can only bring "the other two-thirds of the world online … [and] connect everyone, all of our lives will improve dramatically." However, most French and Germans strongly echo the words of Germany's economy minister, Sigmar Gabriel, about Amazon, Apple, Facebook, and Google's "brutal information capitalism"; they fear the EU will become "digitally hypnotized subjects of a digital rulership."
These European views echo those of digital pioneer Jaron Lanier's in his prescient book You Are Not a Gadget, in which he stressed how all the promise of the Internet and digital age pose equal threats to our personal freedoms and privacy rights: We are in real danger of becoming digital serfs to our Facebook and Google lords and masters. We cheerfully supply all our personal details to these overlords, who then charge us for the right to look at them and let others view them.
Most of the 500 million Europeans see things differently and nowhere more than here in Germany. Germans are particularly suspicious of government intrusion into their private lives, given their troubled past and especially the ways the feared East German security police probed into the innermost private details of ordinary citizens' lives. This hyper-awareness is revealed in Florian Henckel von Donnersmarck's terrific 2006 movie The Lives of Others.
And, of course, the story about our CIA spying on Germany's very small military establishment is yet another case that highlights why German suspicion of government spying is indeed appropriate. We are close NATO allies with Germany, and Germany has supported our activities in Afghanistan and is one of our most valued partners in the struggle against international terrorism. (The French, by comparison, haven't been nearly as cooperative.) After spying on Chancellor Angela Merkel's personal phone for years, President Barack Obama offered her an apology. Merkel plaintively asked, "How can you spy on your trusted friends?"
But now, twice in the last two weeks, the German government has accidentally found two more instances of American spying. While the Germans were attempting to ferret out Russian spies, they instead found the CIA was turning some of their military employees into spies for the U.S.A. As finance minister Wolfgang Schäuble put it to der Spiegel: "Really stupid!"
Merkel asked again, "How can there be trust between us when you keep doing this to us?" Germany has again been restrained with her most vital ally, the U.S.A., and instead of expelling the U.S. ambassador to Germany, Merkel expelled the CIA station chief, who worked out of the U.S. embassy in Berlin. Although she runs a conservative government coalition, Merkel is under great pressure to do much more. Are we trying to push Germany into the hands of the Russians? President Obama as of July 12 has not offered a public apology for these intrusions into the private affairs of our most valued military ally in Europe. Official apologists in the U.S.A. have insisted "all the great powers do this," a weak and thoughtless response.
How is this any different from the NSA spying on American citizens at home?
And then there's Facebook's infamous "stealth testing" of unsuspecting Americans' news feed, which Jaron Lanier wrote scathingly about in the International New York Times. Facebook "researchers" secretly altered the news feed delivered to nearly 700,000 Americans for a week, never asking for their consent to be studied. The study — which used University of California and Cornell University researchers as "cover" — told us what most of us would already guess to be true: Social networks can indeed manipulate users' emotions by tweaking the data they receive. How is this different than Big Brother telling us "War is peace" and "Arbeit Macht Frei" (Work Makes You Free)?!
As Europe attempts to take on the digital giants, and the German government rebuffs outrageous American spying, the tepid response by U.S. citizens to Silicon Valley's assault on our own proud civil rights tradition is puzzling. Where are the proud Americans stating "Don't tread on me"? What is also surprising is the lack of reaction to Facebook founder Zuckerberg's insouciant arrogance (his WSJ statement was simply an ad for Facebook), and President Obama ignoring appropriate German complaints.
The fear is that 1984 is already in the U.S.A., and our wallowing in sleazy digital pleasures resembles Huxley's Brave New World or the idiots in the Hunger Games' Panem.