Events
Project Fiesta!
S.B .Historical Museum Builds a History of Old Spanish Days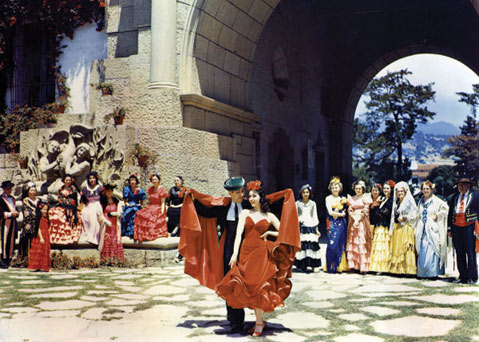 Project Fiesta! Building a Complete History of Old Spanish Days, on view at the Santa Barbara Historical Museum (136 E. De la Guerra St.) through September 28, is both a completed exhibition exploring the history of Old Spanish Days and an ongoing research effort that seeks to crowdsource a comprehensive account of our city's signature public event.
Starting from a powerful foundation laid by curators Daniel Calderon, Michael Redmon, and special guest curator Erin Graffy de Garcia, the show will expand the museum's collection of historical data on Old Spanish Days by soliciting visitor's Fiesta photographs, memorabilia, and oral histories. The exhibit, which fills the main gallery at the Historical Museum with vintage posters, images, costumes, and even ornate parade-worthy saddles, also includes a special recording booth where people can go to leave their memories of Fiesta as historical audio. The many fine photographs in the show are the point of departure for one particularly clever element — a set of instructions on how to date your own photographs using clues the way a real historian would.
Old Spanish Days turns 90 this year, and by taking a decade-by-decade look at it, Project Fiesta! reveals all kinds of interesting modifications of style and emphasis. For example, the inaugural event, which took place August 13-16, 1924, featured the opening of the then-brand-new Lobero Theatre with a play called Beggar on Horseback, which was produced and acted by the city's Community Arts Players. The show was not a pageant about Old Spanish Days but rather a Santa Barbara production of that season's biggest Broadway hit, an expressionist comedy by George S. Kaufman about a rebellious classical composer who slaughters his rich fiancée and her family, only to wake up and find out he's been dreaming. It was this anarchic New York comedy, which has nothing at all to do with Spain, Mexico, or California, and in which the "beggar" wears pajamas, that inspired some of the costumes seen in the images of the festive gatherings at the nearby El Paseo in those early years.
In the 1930s, we see the indirect influence of the automobile on this celebration of equestrian pageantry in the sponsorship of the annual Fiesta posters by the Seaside Oil Company. Artist Roy Lawhorne lived in town and taught at Santa Barbara College. His magnificent graphic design work could be seen up and down the West Coast in Seaside's many service stations, and his Fiesta posters made a powerful statement about the romance and glamour of what was, in the 1930s, a rapidly growing phenomenon.
Although World War II and then the great drought of 1948 caused the only cancellations of Fiesta, in the 1950s and 1960s it reemerged, energized by the marimba rhythms of Lencho Martinez and the dance routines of Jose Manero and Paquita del Rey.
For those who revel in the history, as well as those who enjoy the revelry, Project Fiesta! is well worth visiting and solicits you to follow and contribute to #projectfiesta, #fiestahistory, and #oldspanishdays. For more info, call 966-1601 or visit santabarbaramuseum.com.