Arts & Entertainment
Review: Arcade Fire at the Santa Barbara Bowl
Confetti, Bobbleheads, and Covers on Monday, August 4
After a week's worth of confetti eggs, skirt twirling, and margarita machines, I half expected Monday night's Arcade Fire audience to show up dragging their feet. Apparently I was only half right. As the sun crested and the band took the stage at the Santa Barbara Bowl, frontman Win Butler made quick work of revving up his fans. "Most people stand up at our shows," he snickered to those in their seats, "but that's fine — stay sitting. It looks comfortable." From there it was all systems go. Outfitted with a small army of auxiliary percussionists, string players, and bobblehead-brandishing dancers, the band launched into "Here Comes the Night Time" and ushered in close to two hours of swelling, scream-sing-along celebration.
For those who've followed Arcade Fire through their nearly flawless 13-year, four-album run, the band is a kind of rock 'n' roll beacon of hope. Play "Wake Up" to most anyone older than 18, and you're sure to spark a tearful memory or five. Talk to someone who saw the band during one of their famously high-energy early tours, and you're all but guaranteed to get an earful. Why? Because the Arcade Fire magic is a mythical, many-armed beast. The band's songs are big, at times over-orchestrated affairs, and when they're brought to life in front of a crowd, they build and build and build until they almost topple over. As far as stage presence goes, husband and wife Win Butler and Régine Chassagne are unlikely foils; his commanding speak-sing plays off her eerily delicate lilt in a way that's both odd and affecting. And when you combine all this with dizzying lighting rigs, a couple hundred mirrors, and a few cannons full of confetti, you're basically guaranteed a good time.
Santa Barbara's entry into the Reflektor Tour diary featured a few kind-of-okay covers (Dead Kennedys' "California Über Alles" and Tom Petty and the Heartbreakers' "California"), as well as a weighted helping of tracks off of last year's Reflektor, but the evening's real highlights came with the classics. Midway through, Butler made the wistfulness of "The Suburbs" feel downright revelatory, and when it ran into the one-two punch of "Ready to Start" and "Ocean of Noise," there wasn't a seated body in the house. Yes, there were some misses, and no, I don't think the additional bongo players really added all that much, but when "Rebellion (Lies)" hit halfway through the encore, it did really feel like the best party the Bowl has hosted all season.
Leave it to Arcade Fire to make Monday night feel like a weekend.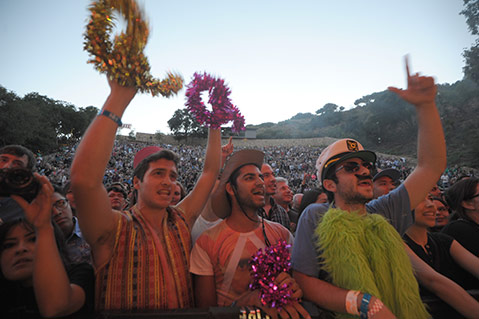 Setlist
1. "California Über Alles" (Dead Kennedys cover)
2. "Here Comes the Night Time"
3. "Neighborhood #3 (Power Out)"
4. "Flashbulb Eyes"
5. "Reflektor"
6. "Joan of Arc"
7. "Month of May"
8. "The Suburbs"
9. "Ready to Start"
10. "Ocean of Noise"
11. "Neighborhood #1 (Tunnels)"
12. "We Exist"
13. "No Cars Go"
14. "Afterlife"
15. "It's Never Over (Oh Orpheus)"
16. "Sprawl II (Mountains Beyond Mountains)"
Encore
17. "California"(Tom Petty and the Heartbreakers cover)
18. "Normal Person"
19. "Rebellion (Lies)"
20. "Wake Up"