Film & TV
Review: Get On Up
Chadwick Boseman, Dan Aykroyd, and Viola Davis star in a film written by Jez and John-Henry Butterworth and directed by Tate Taylor.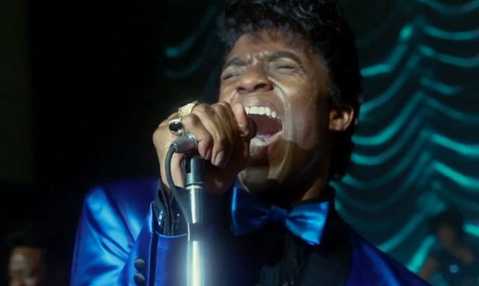 You could easily build the case that this film belongs to Chadwick Boseman. The actor who embodied the clear-eyed nobility of Jackie Robinson in 42 completely transforms himself from within for this role, which requires not just a dancer's grace and an egotist's pomp, but an almost obscene ambitiousness burning at the edges. It's fair to say Boseman manages all that and more. His song performances are gorgeous — from the patented toe step slide to the funky chug of his carriage. He's all about the finger pops and splits. If it was just a matter of trance-channeling Brown, who always exemplified sexed-up pride, Boseman would deserve high accolades for this show.
But such an exclusive focus leaves out half of what really makes this movie compelling: its intricately rewarding structure. It begins with a hazy bummer — Brown's druggy 1980s arrest after shooting up a sales meeting, ending in a car chase and imprisonment. But then we spin. The story is told in great interrupted loops that move with a dreamlike logic from Brown's dirt-poor youth to those pinnacles of self-made fame and wealth. Director Tate Taylor showed no chops like this in his plodding film The Help, but here it all coheres into a thing of beauty. It seems more likely that writers Jez and John-Henry Butterworth, who cowrote the time-hopping script for Edge of Tomorrow, may hold the key to this marvel. The film moves point counterpoint and builds in a roundabout way, like real memories do, until it ends like an emotional firecracker string.
Most musical biopics linger too long on the vices of their protagonists, as if the director's assignment was to unearth and expose. But really, who cares if Johnny Cash popped diet pills? He sang "Ring of Fire." This film, which begins with Brown whacked out and ends with him a lost little boy, may not be as dark a portrait as some vultures require, but it's all the evidence that future folk will need to know that this troubled man was not just Soul Brother Number One; he was a famous flame.