Sports
Blake Parrish Honored
Water Polo Captain Named DP's Scholar-Athlete of the Year
Senior Blake Parrish makes an impact in the swimming pool and in the classroom at Dos Pueblos High. He has been tearing it up in water polo and swimming since he enrolled at DP; he's the water polo team captain. The honors he's received in his prep water polo career include two-time All-CIF selection, Channel League MVP, and first-team member. In swimming, he's been recognized as first-team all-league three times, holds the league record in the 100 breaststroke and medley relay, and has won 10 league titles.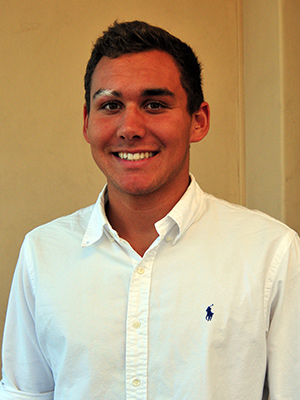 Parrish has been selected to USA Water Polo national youth teams three times. He represented his country at two Pan American Games in Puerto Rico and Argentina and earned silver medals at both competitions. He picked up a bronze medal with the USA Cadet squad at an international competition in Serbia. He is being recruited by several schools; his choices are between Stanford, Harvard, Princeton, UCLA, Cal, or USC.
Academically, Parrish carries a 4.8 grade point average, with a class load that includes advanced engineering, physics, mechatronics (combination of mechanical and electronic engineering) 1 and 2, AP American Government and English. He is a member of the National Honor Society and the Engineering Academy at Dos Pueblos.
Parrish was honored as DP's Scholar-Athlete Award winner at Monday's Santa Barbara Athletic Round Table Press Luncheon at Harry's Plaza Cafe.
For more, see presidiosports.com