Film & TV
Review: The Skeleton Twins
Kristen Wiig, Bill Hader, and Luke Wilson star in a film written by Mark Heyman and Craig Johnson and directed by Johnson.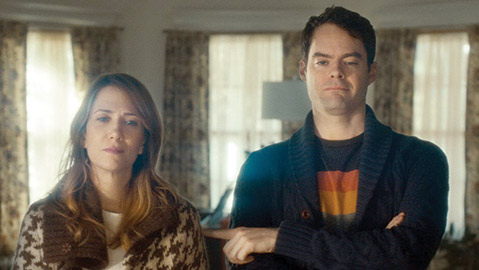 No, it isn't the Olsen Family Chronicles, but the press is making us think The Skeleton Twins is an emotional rollercoaster. In reality, it's actually hard to imagine what people love about it. The performances are good, but isn't it more than a little patronizing to be surprised that these talented comics could portray marginalized people? Wiig was much more pathetic and funny in Friends with Kids and far more amazing in the under-respected Paul, where she played the repressed daughter of a wacko fundamentalist. And Hader played Andy Warhol with both brio and restraint in Men in Black 3. Those roles required acting. This film is shtick by comparison, though each has fine moments and mostly in scenes where the confrontations are fraught.
The Skeleton Twins isn't a dark comedy; it's a lite melodrama. The film opens with the fraternal twins poised to commit suicide simultaneously, 3,000 miles apart. They haven't spoken in 10 years, and because Milo (Hader) ends up in the hospital first, Maggie (Wiig) takes her wayward gay brother home to her burly, sweet husband, Lance (Luke Wilson), to recuperate. As he comes out of his funk, Milo starts reopening wounds. It's not trite, but it is easy to guess where each scene will conclude and what fresh hell will grow out of any fun these reunited siblings have. Just to be sure we know they are kooky and were once happy, there's a long lip-synching dance scene.
Twins are great cinema fodder. A clever director would employ mirroring, repetitions, and coincidences to make the creepy charm of being a twin — alone but never really alone — seem real. Director Craig Johnson settles for emotional revenge, which just seems too obvious. This script leaves too much crucial stuff in limbo: What does the title mean? What happened to daddy? Why do goldfish keep getting killed? It's hard to laugh or cry when the actual story is so thin