Sports
Magic Johnson's Story
Legendary Laker Comes to S.B. as Part of Arts & Lectures.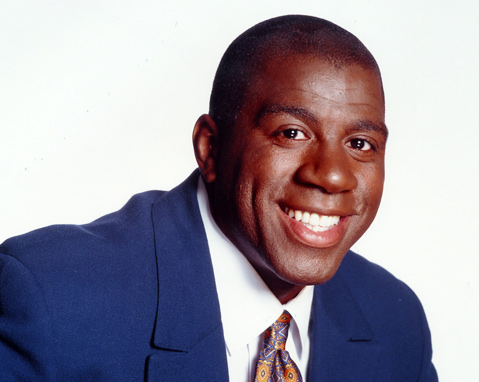 Bill Bertka spoke prophetically on November 7, 1991, the day the sports world shook over Earvin "Magic" Johnson's announcement that he had contracted the HIV virus. Bertka was an assistant coach of the Los Angeles Lakers during a decade of greatness that had been orchestrated by Johnson on the basketball court.
"He's in another arena now," Bertka told me. "He won in high school, in college, and in the pros. Now he's going to play at the ultimate level. If anybody can win over a terrible opponent, he can. The Lord does things in strange ways. Magic got selected to another challenge where he can do the greatest good ever. He made a statement that he's going to be a spokesman about the problem of AIDS. Maybe this cause needs a superstar. They've got one now."
Nearly 23 years later, the Magic Johnson Foundation is a leader in promoting HIV/AIDS awareness and prevention, and its namesake and founder is thriving. The NBA legend has parlayed his fame and fortune into a far-reaching entrepreneurial career that includes urban business development and part ownership of the Los Angeles Dodgers.
When Johnson takes the stage at the Arlington Theatre on Friday, October 24, to give a talk titled The Magic of Winning, he can point to any number of challenges he has met with grit and grace. His talk is presented by UCSB Arts & Lectures in association with UCSB Athletics.
Dodger fans can only wish that their baseball club could discover the magic of winning in the postseason. After another failure to get past the St. Louis Cardinals last week, Johnson said he could relate to their frustration. Early in his career with the Lakers, the Boston Celtics defeated them in the NBA Finals.
"We hadn't beaten the Celtics in eight tries," Johnson said. "Then [in 1985 and '87] we beat them twice for the championship. A lot of superstars have been through adversity. Look at LeBron James; he went through adversity, then he won championships. Larry Bird went through adversity, Kobe Bryant … we all do. We all bounce back. [Dodgers pitcher] Clayton Kershaw will bounce back. We will eventually beat the Cardinals."
Johnson said any changes in the Dodgers' makeup will be up to Stan Kasten, the club president, and managing partner Mark Walter. "When you got a guy like Stan Kasten, who built the Atlanta Braves and started the Washington Nationals — he has the expertise. I don't have that kind of expertise. [Kasten and Walter] will get together and decide who's going to be on the Dodgers team and in the organization."
The Lakers appeared in the NBA Finals nine times in 12 years during Magic's career. They won five titles. "Without a doubt, I haven't seen a greater decade of basketball since then," said Bertka, who still works as a scout and consultant for the Lakers. "I've yet to see a basketball team push the ball upcourt with the speed and efficiency of the Lakers in the '80s. Magic was the architect."
Johnson explained his approach: "You must stay dedicated and focused. You must put the time in to get better as a player and as a team, so preparation is really important. You can't ever get satisfied. I always wanted to win another championship … As long as you stay hungry like that, you're going to be successful. The art of winning for me was that I tried to improve as a player and to push my teammates as a leader of the Lakers. I know that it was a big disappointment for the Dodgers losing, but now our leaders have got to step up and push themselves, Clayton and the other guys, and they'll be better next season."
Magic's most serious setback was, of course, the diagnosis of HIV at a time when it was considered a death sentence. He retired as an everyday NBA player but did not withdraw from being a public figure. "I've been a positive guy for my entire life," he said. "I wasn't going to change when I announced HIV." He benefited from new drugs that have controlled the virus. "I'm just happy things have turned out the way they have," he said. "I'm blessed to have a great family, a great wife. I'm thankful to the Laker organization for supporting me through those tough early years. I owe a lot to [team owner] Dr. Jerry Buss, who is now gone, but he still loved me, still treated me like I was his son … I owe a lot to great friends who supported me, and now we're talking about it 23 years later."
One of those friends is Bertka, a Santa Barbara resident. "I love Billy B.," Johnson said. "I've been up to his beautiful place a number of times. It was cool to be working with Coach Bertka even after I retired. I would go up and get those shots off, and he would throw the ball back to me."
Johnson came out of retirement to earn the MVP award at the 1992 NBA All-Star Game and to play with the U.S. "Dream Team" at the Barcelona Olympics. He retired again at the start of the NBA season, and the next time he played before a crowd was May 27, 1993, at UCSB's Thunderdome. The game was called the Magic Johnson All-Star Basketball Classic, a fundraiser for his foundation and UCSB's financially strapped department of physical activities. Before a sellout crowd of 6,000, Magic spearheaded his NBA team to a 139-128 victory over college all-stars with a dazzling triple-double of 26 points, 14 assists, and 13 rebounds. He sank a half-court shot at the end of the first half and a 40-foot hook shot at the end of the game as if they were layups.
"Oh, man, that was a great game," Johnson said, laughing heartily at the memory. "It was so loud there; it was incredible. That was one of the best crowds I've ever played in front of. I want to thank the people for coming out and supporting me, supporting the game. It was so much fun."
Magic was smiling then, and he's sure to be smiling when he returns to Santa Barbara on Friday, October 24, 8 p.m., at the Arlington Theatre (1317 State St.). For tickets, call Arts & Lectures at 893-3535 or the Arlington box office at 963-4408, or visit artsandlectures.sa.ucsb.edu or ticketmaster.com/venue/73731.
SPEAKING OF WINNERS: Karch Kiraly, a CIF volleyball champion at Santa Barbara High, three-time NCAA champ at UCLA, three-time Olympic gold medalist, and the all-time winningest beach volleyball player, added to his brilliant legacy last weekend. In his second year as head coach of the U.S. women's national team, Kiraly celebrated with them on the court at Milan, Italy, after they defeated China in four games to win the FIVB World Championship, the team's first gold medal in a major international tournament.