Arts & Entertainment
New Noise 2014: The Conference
Experts Dish on Everything from Promo to Pro Recording
Any high school guidance counselor worth their salt will tell you that it's no easy life being a musician. Between practices, tours, and the never-ending decline of record sales, 2014's rock stars have their work cut out for them. So what's the first step to making it big? Passion. And we mean lots of it. But today's market also rewards hard work, creativity, and innovation. These are just a few of the topics that are sure to be sussed out over the course of Sunday's free New Noise Conference (RSVP through newnoisesb.com), which kicks off at 11 a.m. at the Santa Barbara Art Foundry (120 Santa Barbara St.).
Below, we break down some of the key players and what they're bringing to the table.
Tariqh Akoni
If there was ever someone to talk on behalf of musical versatility, it would be Tariqh Akoni. The Berklee College of Music grad (and native Santa Barbaran) claims "session guitarist" as his trade (he's worked with everyone from Elton John and Stevie Wonder to Jennifer Lopez and Christina Aguilera), but he's also music directing and chairing the L.A. Music Academy. He'll appear as part of Playback Presents: The Ins and Outs of the Professional Recording Industry, 11 a.m.
Budd Carr
Google Budd Carr's name, and you'll find an article titled "The Man with the Most Enviable Job." Fair enough. As a music supervisor, Carr picks and places the music that lands in major motion pictures. He's also the first to tell you that licensing your tunes is where the money is in 2014. He'll appear as part of Career Opportunities: How to Get Your Music On-Screen, 12:30 p.m.
Kat Corbett
If you've spent any chunk of time in Los Angeles in the last two decades, you know Kat Corbett as the strong female arm behind the KROQ 106.7 FM empire. But even aside from her place at the top of the boys club of modern rock radio, Corbett bucks trends. Her Locals Only segment has carried the torch for unsigned bands in the corporate radio world for over a decade. She's also booking shows and making movies. She appears as part of Be an Entrepreneur in the Music Industry, 2 p.m.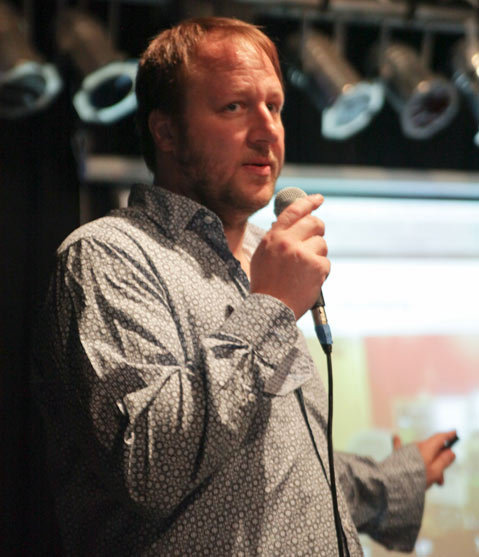 David Codr
No matter what branch of the music tree you're looking to climb, getting there requires hustle. And musicpage.com CEO David Codr may be the master of it. From show promoter and producer to band manager and talent buyer, he's done it all. At New Noise, Codr will lead a workshop on guerrilla marketing tactics, aka Hustle 101. He leads the Guerrilla Promotion Workshop, 3 p.m.