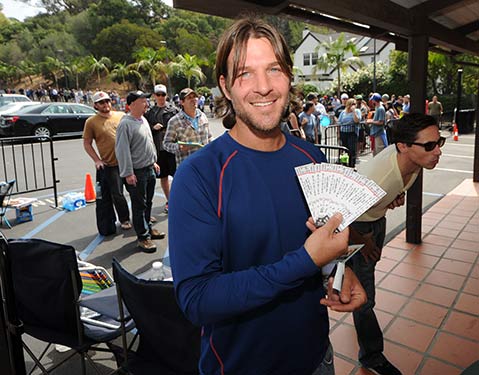 *Editor's note: No drugs were consumed nor hemp necklaces worn in the research or writing of this story.
It is a rite of passage that is fast going the way of the mixtape. Since the advent of rock 'n' roll, fans have been flocking during ungodly hours to do this very thing, often putting themselves or their employment status at risk in the process. It is the fabled campout for concert tickets and, while technology and Ticketmaster have been co-conspiring to rid the world of this once-proud tradition, I am here to report that, thanks to the powers that be at the Santa Barbara Bowl, it's still alive and well at the top of Milpas Hill. In fact, I did it this very August on an otherwise nondescript Wednesday night. I came to procure tickets to next week's soon-to-be legendary two-night stand by Phish. And I was far from alone.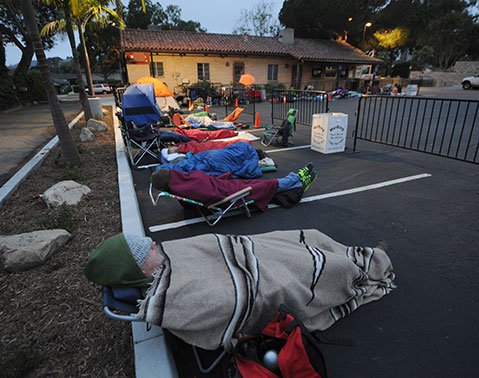 For the past five years, the Stewart Family has been proud to count the Bowl as one of our closest neighbors. Many of their guests have walked by our front door or, on some occasions, pissed in our driveway on their way to and from the venue. It is a proximity that I count among one of life's pleasures, affording us easy access to life-affirming live music and insight to the round-the-clock goings-on of a world-class music venue. Among these revelations has been the fact that people do indeed still line up hours in advance to buy concert tickets, sometimes by the hundreds. And while most shows tend to go on sale on Saturdays, making the waiting routine ever easier to fit into your hectic schedule, the ones most likely to generate a high volume of overnight camping interest seem to invariably be released on weekdays, a likely strategic bit of scheduling by Bowl management to keep the parking lot from looking like a full-blown State Park. This trick usually works pretty well, and the number of overnighters rarely hits the double-digits, with the bulk of hopeful ticket shoppers usually showing up a few hours after sunrise. But Phish fans are a different breed. They are my generation's answer to the Dead Heads, and they are a powerful lobby with lifelong commitments. Nearly 24 hours before tickets to next week's shows went on sale, a family of Phish fans and their friends were already loitering outside my home, happily hanging out after their drive up from Los Angeles.
It should be noted that I, though far from being a "Phish Head," do have more than a baker's dozen of shows under my belt, a product not so much of me loving their music, but more of me loving a good time and being a young twentysomething during the 1990s. I also had a babysitter growing up whose claim to fame was sleeping with Phish frontman Trey Anastasio during the band's early years. But that is another story for another day. What I'm trying to say is that I wasn't so much surprised by the arrival of early-bird Phish fans but rather energized and uniquely motivated to join them. But I'm closer to 40 than 30 these days, so there was no way in hell that I was camping out. Right? Wrong.
By midnight, a couple dozen folks had taken up real estate outside of the Bowl box office. Tents had been erected, and mellow good times were underway, with a special-detail Bowl security guard occasionally making his presence known. By 3:45 a.m., I too was in line. Out of the gray darkness to my left, a yellow notepad was passed to me as I set up my camping chair and sleeping bag. I was officially number 33 in line. I was impressed by the organization of the sign-in sheet and immediately flashed back to the malnourished and hedonistic chaos of my mini-tour with Phish (10 shows in 13 nights) in the late '90s. By the time the first sun rays of the day began to twist their way into the Bowl parking lot, that sheet would have over 120 names on it.
As the day built, so did the conversation among those in line. Some were out-of-towners, but the lion's share of us were locals. We were skipping class or ditching work or simply brought the whole family along, but all of us had history with the band, and all of us couldn't believe they were actually playing the Bowl — our Santa Barbara Bowl.
It was obvious that we were all experienced in the art of waiting; manners and good humor prevailed throughout the day, as opposed to some other ticket-sale waits that I have endured over the years. It was also obvious, like all bands and fan bases that survive the test of time, that Phish's scene had grown up. Super-heady dank burritos, Hobbit-esque bare feet, and public consumption of the Devil's Lettuce had given way to children, our children, hanging in laps and watching iPads while we chitchatted about careers and the wild times at shows now a decade or two in the rearview mirror. When the dude with the beard toward the front of the line started his booming countdown to the box office opening, we all joined in, "10… 9… 8… 7…." I felt a broad smile break out across my face and felt a childish panic inside that maybe I wouldn't actually get tickets, that maybe I should have shown up earlier. "6… 5… 4… 3… 2…." But then it hit me; I was already having a blast, and the show was still a couple of months away. Everything was going to be just fine.
4·1·1
Phish plays the Santa Barbara Bowl on Tuesday and Wednesday, October 21 and 22, at 6 p.m. Both shows are sold out but, of course, ticket miracles do happen every day.