Theater
Review: The Importance of Being Earnest
A Noise Within's Wonderfully Wilde Romp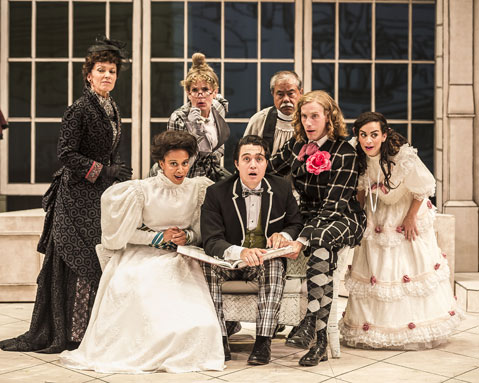 This farcical aristocratic amble into "Bunburying" territory emphasizes everything except the importance of being earnest and succeeds wildly in doing so. Faced with the fabulous effrontery of a flamboyant Algie Moncrieff (Adam Haas Hunter), the exasperation of Jack Worthing (Christopher Salazar), the probing of Cecily Cardew (Marisa Douchowny, and the cartoonish threats of her rival Gwendolyn Fairfax (Carolyn Ratteray), the audience is drawn into a fun-filled social maze by the young wits A Noise Within.
Although its premiere coincided with Wilde's social downfall, The Importance of Being Earnest has consistently been acclaimed as his greatest work. In this revival director Michael Michetti stays true to three vital components of the work: pomp, circumstance and farce. Using these elements, Michetti captures Wilde's seething wit and his cynical critique of high society while still keeping the narrative as a joyous romp. Yet amidst this joy, we also sense a new kind of aesthetic brilliance. With wisdom and wonder, these actors live up to the words of the author, and are assisted by playing amidst an expert set design by Jeanine Ringer. Ringer has created a sumptuous canvas of subtly confounding proportions.
In addition to these delicacies, one cannot ignore the performances of the wonderful supporting cast. From the terrifying and tantalizing Lady Bracknell (Jean Gilpin) to the awkwardly unassuming academic Miss Prism (played by the physically brilliant Jill Hill) not a corner has been cut in this absurd world of human folly. Additionally, the two most quintessential roles for the time period—those of the Butlers, Lane and Merriman, and the Reverend Canon Chasuble—were showcased with pitch perfect timing by Apollo Dukakis and Alberto Isaac respectively.
At a Noise Within, Wilde's pompous yet potent cake leaves nothing—and everything—to the imagination. What must it have been like to be inside Oscar Wilde's mind as he navigated the staunch social milieu of the late nineteenth century? What brilliance and beauty did he perceive there? The company has, instead of falling into stifling norms, captured this gorgeous work of aesthetic titillation with timeless comprehension and modern prowess. I dare say the quips prove seething even today, and amidst the cartoonish world of the play, hit a little too timelessly close to home.
From a larger than life set to the athletic feats of the leading actors, from Algie's physical presence—his towering physique, luscious locks and keen sense of shiftiness—to the expertly executed intellectual and social cunning of Gwendolyn Fairfax, we have been allowed through this production to take a peek into a world that Wilde not only lived in, but that he understood viscerally, artistically and socially, far more than most of his contemporaries. It is obvious that this company and their fine director have captured the importance not merely of being earnest, but the importance of playing "Earnest."