Visual Arts
Review: inch4inch at the Arts Fund Gallery
Group Show Gets Small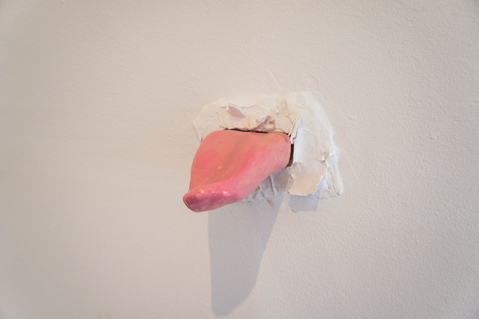 Give a stellar group of artists a show, and you are bound to get something good. Give them a show with heavy constraints, and you may get something great. That's what happened here, as curator Philip Koplin rallied some of the area's top talent with the premise of a show including four works apiece, none of which was to exceed four inches in any dimension. Thus followed the title, inch4inch, and a flurry of invention as the artists interpreted these directions in myriad ways. For natural-born miniaturists such as Virginia McCracken, the show offered the chance to go little-toe-to-little-toe with some heavyweights. Her idiosyncratic assemblage boxes — "Rose Wylie," "A Glimpse of the Tiny Queen," and "Dame Ethel" — feature quirky mini-mice inhabiting fanciful interiors. While McCracken shares a certain vocabulary with such avatars of twee as Beatrix Potter, her execution is informed by contemporary art and even abstract expressionism. It's a delightfully ironic mix, like William Burroughs reading bedtime stories.
Hilary Brace (who has an important new show at Craig Krull Gallery in Santa Monica's Bergamot Station that's up through November 22) is also in inch4inch with a quartet of exquisite drawings that defy belief in their magically detailed rendering of liquids and atmospheric gases. These little creations are tremendous, and there's no one else like her. Gail Pine contributes four Intersections, ink-and-white compositions on Aquaboard that feature red and black dots dancing with a line. Pine uses her background in creating typologies for snapshots to ground her abstract images in a consistent gestural geometry, proving that there's such a thing as mini-minimalism.
Some men are showing here, too, including the ever-antic Keith Puccinelli, whose little Keith makes an unexpected appearance on the wall around the corner. Koplin's drawings anchor the show in his gloriously enigmatic sensibility. Mark Lozano contributed four delicate Window Views, each of them revealing a previously undetected aspect of the everyday. Rollin Fortier's elegant and distinctive untitled white objects express yet another instantly recognizable yet hard-to-pin-down persona. And Catherine Gee's nudes and fashion paintings take on an unexpected vibrancy when they are broadcast on this tiny frequency.
The long wall facing the Arts Fund doorway got the show's most radical treatment, as Koplin invited each of the artists to put one of their works on it as they arrived to drop off their contributions. "Put it anywhere you want," Koplin is reported to have told them, "except you, Keith." One contributor who really took full advantage of the dimension imposition was Dane Goodman. His series of four Dark Pillows used modeling compound to amazing effect, creating delicately smushed faces out of puffy black-gray rectangles that were animated to an extraordinary degree. Goodman's sure touch, both in craftsmanship and in tone, gave these goofy little guys an oversized emotional impact.