Books
The Age of Sail: The Transatlantic Packet Ship Era
Author Robin Lloyd Talks Packet Ships at the SBMM
"On a cold, drizzly November morning, Ely took the first tentative steps onto the gangway of the Hudson with great trepidation," writes Robin Lloyd in his debut novel, Rough Passage to London. "The newly built 360-ton ship was sailing to London that same day on its inaugural voyage, and the seriousness of what he was about to do was just beginning to dawn on him."
The year is 1822, and Ely Morgan is a 16-year-old farm boy from Connecticut who joins the crew of a packet ship — sailing vessels that crossed the Atlantic on a strict schedule, carrying mail and passengers — to escape his father's brutality and to search for his older brother Abraham, a sailor who has gone missing.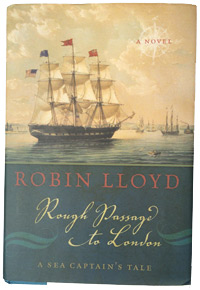 In evocative description, Lloyd reveals the harsh life of merchant marines in the first half of the 19th century, which includes battling storms, beatings from crewmembers, and attacks from river pirates. Lloyd, a former foreign correspondent for NBC and an award-winning television documentarian, didn't have to look far for his subject: Elisha Ely Morgan is his direct ancestor, and it's from the known details of his life that Lloyd spins this engaging historical fiction.
On tour for Rough Passage, Lloyd is making a stop in S.B., where he will give a multimedia presentation depicting the history of packet ships — specifically the New York vessels — their routes, passengers, and the sailors of the era, using more than 100 maritime images. The presentation, titled The Age of Sail, takes place Thursday, November 20, 7 p.m., at the S.B. Maritime Museum, 113 Harbor Way. Call 962-8404 or see sbmm.org.