Sports
Cate's Girls Vball
The Rams vie for CIF Championship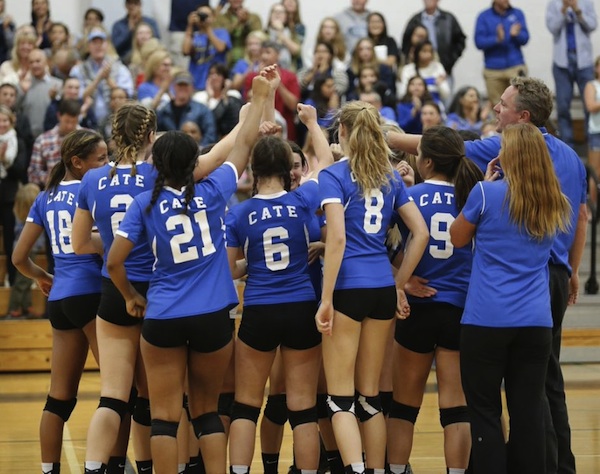 It's been 23 years since Cate last won a CIF-Southern Section girls volleyball title and 22 years since it last played in the final. The Rams make their return to the championship match today when they take on Duarte in the Division 4A final at 5 p.m. at Cerritos College. The match will be streamed online by Fox Sport West's Prep Zone.
When coach Greg Novak gathered the team at the beginning of the season, the goal was set to reach the CIF final. The Rams came so close last year, losing in five sets in the semifinals at Pacifica Christian in Santa Monica.
With Cate winning the coin-flip to host the semifinals this season, there was an added motivation to win. "There was a lot of stress for that match because we had to prove ourselves in front of our home crowd," Novak said. "Judging by the performance of the team, losing the semifinal wasn't an option."
The Rams dominated fourth-seeded Summit and rolled to a sweep. It certainly helped having seven returning players who remembered how painful it felt after losing in five sets last year. "They learned a lot from the pressures of the competition last year," Novak said. "They know the routine and are used to the crowd and the noise, which can be factor in the big, important matches."
Talking is just as important as passing, serving, setting, hitting and digging in Cate's game. The team regularly has off-the-court discussions about strategy, court awareness, psychology, game situations, and maybe dinner plans.
"Off the court, in our team discussions, all members talk about what is in store, what to expect and what we need to watch while on the court," Novak said. "It is good to see their positive interaction and hear what they have to say. Their talks are very constructive and beneficial for match preparation. Having these talks provide a game plan, which contributes to their confidence."
Friday's final will pit the top two seeded teams in the tournament. While Cate (22-1) has swept its three opponents to reach the final, Duarte (26-8) has survived five-set quarterfinal and semifinal matches. The Falcons rallied from a 2-0 deficit against Desert in the semifinals and won the fifth set 15-11.
"All players on both Cate and Duarte are new to the finals so it will be exciting for both schools, which should bring some high energy to the match," Novak said. "In the end, it comes down to the basics: Who can pass, set and hit more consistently."
For the full story, see presidiosports.com