Arts & Entertainment
Review: Preservation Hall Jazz Band at the Lobero Theatre
Legendary Songwriter Allen Toussaint Performed on Tuesday, November 25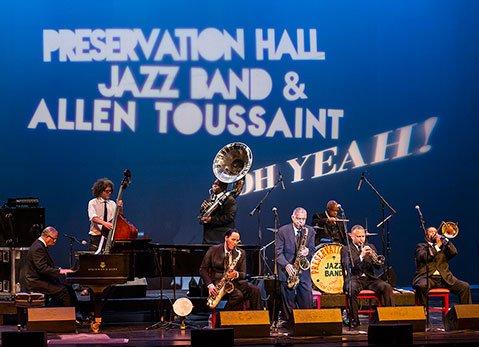 This unusual hybrid concert brought together the Preservation Hall Jazz Band (PHJB) and New Orleans R&B songwriter/producer Allen Toussaint. Toussaint, now in his mid-seventies, has lived an extraordinarily influential music career, albeit mostly under the radar. With only the slightest dusting, you find his fingerprints all over the place: hit songs for Lee Dorsey, the Yardbirds, the Rolling Stones, and the Pointer Sisters. Toussaint's versatility spans Glen Campbell's greatest career hit, "Southern Nights," and Herb Alpert and the Tijuana Brass's iconic "Whipped Cream"—aka The Dating Game theme song.
Purists hoping for straight-up New Orleans jazz were surely disappointed. But you would have been hard-pressed to find a frown in Tuesday's audience. PHJB is a lively octet of entertainingly distinctive characters, every one sporting a New Orleans musical pedigree. Creative director and bassist Ben Jaffe is the son of PHJB founders (1961) Allan and Sandra Jaffe. The 82-year-old clarinetist Charlie Gabriel's musical genes can be traced to the 1850s. Drummer Joe Lastie, who has played with the band for 25 years, studied at the Dryades Street YMCA with classmates Wynton and Branford Marsalis. On the younger, edgier end of the spectrum, saxophonist Clint Maedgen also leads the alternative cabaret group New Orleans Bingo! And the perpetually dancing presence of sousaphonist Ronell Johnson proved irresistible.
While the evening included a few passages of old-time, collective polyphonic swing, most of the night centered on pop gems by Toussaint, who provided piano and vocals. Tunes included "A Certain Girl" (Yardbirds/Clapton); "Get Out of My Life, Woman" and "Coal Mine" (Lee Dorsey); and "Fortune Teller" (the Stones, but most recently Robert Plant and Alison Krauss). A moment of heartfelt political/social concern found voice during Toussaint's solo set with "We Are America" and "Yes We Can Can." Toussaint also demonstrated impressive piano wizardry and wit with an improvised suite of music fragments, fluently moving from R&B to stride piano, knitted together with quotes from Swan Lake, Frédéric Chopin, J.S. Bach, and Christmas jingles.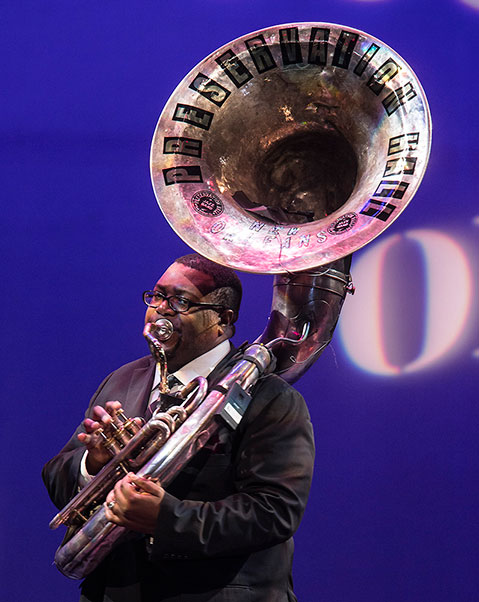 Trumpeter Mark Braud stepped to center stage with fine vocals on Fats Domino's "I'm Walkin'." He then belted out a funeral-procession-slow version of "St. James Infirmary," with a wonderfully articulate trumpet tribute to Louis Armstrong. In a sly choice of programming smarts, the same tune was immediately recapped upbeat with Maedgen on vocals. Trombonist Freddie Lonzo's comic sense shone on "Rattlin' Bones." And when Toussaint dished up the autobiographical "Southern Nights" as an encore, the familiar song seemed purged of its 1970s country-pop associations, glittering again in the starlight of a child's-eye view of the Louisiana backwoods.