Visual Arts
Funky Printers
Gary Chafe Solo and S.B. Printmakers at the Arts Fund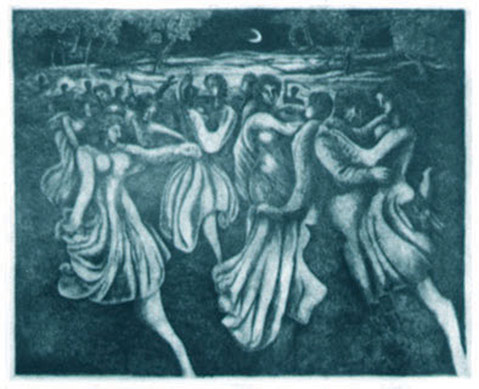 PAPER TIGERS: Apart from any metaphysical issues they may raise about the work of art in an age of mechanical (and digital) reproduction, prints have served for centuries as an important means of distribution for new ideas and images. Picasso, to take just one of the more prominent examples, could not possibly have achieved his global eminence as the 20th century's best-known modern artist without devoting significant energy and craft to making prints. The form presents a paradox, however; insofar as prints are multiple and mechanical, they appear to exist at a distance from the celebrated free hand of the artist, suggesting something automatic, even easy. But, as the various skills involved often demand a great deal of experience to master, making a great print may well require as much effort and more expertise than creating a comparable drawing or painting.
Fortunately for us, there's a dedicated group of Santa Barbara printmakers who have kept the fine art and challenging craft of printmaking alive and thriving in our area for more than 20 years through frequent juried exhibitions and printmaking workshops. Best Impressions, the group show on view now through February 28 at the Arts Fund, is a distillation by S.B. Printmakers boardmember Don Zimmerman of recent work by 10 of the best artists who belong to the organization. Although there's been no attempt to impose thematic unity on the exhibition, inclusion was far from arbitrary, as each of these artists has taken a top or a second prize in one or more of the Printmakers' recent juried exhibitions. David Graves, Yessy Kim, Inés Monguio, Jerilynne Nibbe, Patti Post, Karen Schroeder, Garrett Speirs, Don Zimmerman, Siu Zimmerman, and Pamela Zwehl-Burke have all earned the recognition they are receiving here many times over, and the show would make a fine introduction to the wide range of styles and processes the group supports.
Graves's vivid linoleum block reductions feature jazzy syncopation and precise color choices and are based on the charts that anthropologists make to describe kinship structures. Three large lithographs of offshore oilrigs by Speirs strike a magical balance between the negative spaces of the ocean and sky and the marks made on the horizon by these man-made structures. Around every corner of the Arts Fund Gallery, there's another arresting image in this concentrated burst of printmaking energy.
MONOMAN: Just down the block at 111-A Santa Barbara Street, there's another excellent show featuring a variety of media, but dominated by a large group of black-and-white monotypes. The space, which is just past Cabana Home on the way toward the train tracks, is known as "studio one eleven" and serves primarily as a workspace for Barbara Leung Larson, who has been generous enough to turn it over for the rest of January to Gary Chafe, the man behind the monotypes, as well as the small sculptures and remarkable etchings that complete this midsize retrospective.
At 78, Chafe is one of the city's best-kept secrets — a truly distinguished artist with an idiosyncratic vision and no pretensions whatsoever. His technique with these monotypes involves drawing on the inked plate with whatever comes to hand — a scraper, a piece of cardboard, or even an eraser. The results are splendidly virtuosic and full of intense visual energy. Chafe has been actively involved in the Santa Barbara art scene since 1960 (!), and going through this show is like traveling back through time and experiencing each of the subsequent decades as a pageant of S.B.-specific beauty. There's an etching in the show called "Dancers" that conjures, somewhat in the manner of Thomas Hart Benton, the Bohemian camaraderie of the original Mountain Drive community more effectively than any other single image I have seen. The gallery is open Thursday-Saturday, noon-5 p.m., and by appointment. For info, call (805) 451-0651. And to learn more about Chafe, visit garychafe.com.