Sports
Boys BBall: Royals Beat Dons
San Marcos Takes Control Early to Win Game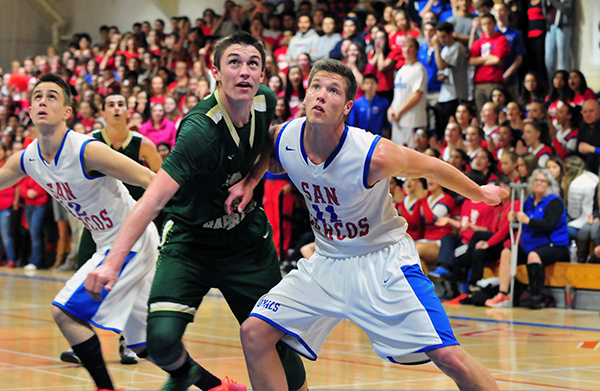 It was the Channel League opener against a crosstown rival in a jam-packed, loud and energized Thunderhut. The San Marcos boys basketball team handled the environment beautifully against visiting Santa Barbara, which struggled until late in the second half. The Royals came out red-hot, bolting to an 18-7 lead in the first quarter and never looked back in winning 60-50 on Wednesday night.
Junior Scott Everman ignited the Royals and got their red-clad student section rocking by knocking down three straight 3-pointers to close out the first quarter. The 6-foot-6 forward also played tough defense in the paint against Santa Barbara center Ben Clay.
Everman finished with a team-high 20 points in San Marcos' balanced attack. Ryan McCarthy had 13 points, Tyson Miller added 11, and Kele Mkpado tallied 10 points.
Santa Barbara sharpshooter Bolden Brace led all scorers with 22 points, including four 3-pointers.
It was San Marcos' second win over Santa Barbara this season. The Royals (14-4) beat the Dons (16-4) by 12 in the championship of the Carpinteria Bashore Holiday Classic in December. The loss ended a two-year league win streak for Santa Barbara.
"I think our guys responded well, played for each other and we were able to come out strong in the first half," said Everman of Wednesday's performance. The Royals led 34-16 at halftime.
On his 3-point shooting, Everman said, "I was kind of going at it with Bol. He was shooting. I was shooting. I had some confidence and my teammates believed in me.
San Marcos coach Landon Boucher said Everman's performance was especially impressive because he was coming off an injury suffered last week.
"The shooting performance that was going on was really cool because he didn't practice since the Pacifica game last week," Boucher explained. "He got hit in his calf (muscle) and couldn't walk on Saturday. We didn't know if Scott was going to play. The coaching staff told the players on Saturday that Scott may not play. 'If he goes, consider it a bonus.' We didn't know he'd be 100 percent or not."
He and the Royals were at the top of their game in the league opener.
"They came out really well and we came out poorly," said Santa Barbara coach David Bregante.
"I don't think we came out ready and they came out firing, making their shots and running good stuff," Brace said of the Royals. "We got to adjust quicker."
San Marcos made it tough for Brace to get open looks. Miller and Conner Everman were in his face most of the night.
"Tyson and Conner played a great game," Scott Everman said. "Walker (Odell), all the guys off the bench played a great game defensively. That was part of the game plan, contest his shots and make it hard for him to get the buckets he usually gets."
Said Boucher: "Bol is such a good player, he's going to get his points. We just wanted to make it tough for him. We know he's going to shoot some tough shots, but we wanted to have them contested and Tyson and Conner did that. Funny, as Tyson was doing a good job on Bol, he was hitting some tough shots and got some momentum in the game."
San Marcos' tough defense transitioned into a well-run offense. The Royals showed good discipline and ball movement.
"We get our stops and that's what our offense stems from," said Boucher. "That's what we were talking about in the locker room before."
San Marcos' lead got up to 21 points in the third quarter (41-20) after Everman lobbed a pass to Mkpado for a layup and McCarthy followed with a 3-pointer
"The bottom line is they played well," Bregante said. "I bet you that was the best game of the year for them. When was the last time they shot that well?
They're shooting the ball well, they got the crowd behind them."
Bregante was pleased how the Dons played in the second half and cut the deficit to nine late in the fourth quarter. Brace and Max Henderson knocked down threes and Matt Gilligan scored after a Brace steal and assist to make 50-41.
But San Marcos responded with a basket by Mkpado and two free throws by Conner Everman.
Boucher liked how his team stayed focus in the electric environment at the gym.
"We talk a lot about moments like that in the preseason," he said. "You have to know that your teammates are going to be there for you, and that's why our motto lately has been: 'Play for each other.' When they take the court, it doesn't really matter who's there or how many people are in the crowd. They say, 'Hey, we're playing our style of basketball.' And that's playing for each other."
For more, visit presidiosports.com