Education
Cutting the Red Tape
Alejandra Gutierrez Brings a Village of Resources to the Neighborhood
Varsity soccer center midfielder Jesse Gonzales led his team to a CIF championship after an incredibly good season. It was 2010, and 8,000 people had packed Harder Stadium to see the Santa Barbara Dons crush the Dos Pueblos Chargers. Gonzales and his teammates had become stars. Everyone was talking about them.
Soon after, Gonzales and a few friends popped into the career center, where they regularly hung out at lunchtime. To people passing by, the crowded room kind of looked like chaos, but to the many students who showed up daily, the career center was like a sanctuary. There they could eat lunch, find out about job opportunities, and receive academic or personal advice.
The driving power behind this sanctuary was the "career lady" Alejandra Gutierrez, Ale for short, whose kind demeanor, big brown eyes, and infectious smile softened her determined probing of students.
"What's your plan after high school?" the then-26-year-old Gutierrez pressed the soccer stars, still basking in their athletic glory and trying to forget that there was life after high school. Graduation in a few months seemed like an eternity away. They hadn't thought much beyond getting a job or maybe enrolling in a City College class.
Not if Gutierrez had anything to do about it. A big soccer fan herself, Gutierrez recognized the varsity players were really talented and could use the determination and focus they learned on the field in a college setting. Within days, she had them apply for college, busting out personal statements and revising their essays based on their teachers' critiques. "She definitely got our feet back on the ground," Gonzales said.
The following Sunday, she held an impromptu meeting with their parents at 8 p.m. in the center. She wanted their permission to drive the students up north for an unofficial field trip to the Bay Area to visit the small, private college Notre Dame de Namur University. With the help of Franklin Elementary School Principal Casie Killgore — the two first met when Gutierrez was a high school freshman in 1997 — Gutierrez had arranged for the boys to meet the university head coach and play for a trial run. Shocked by the opportunity, the moms broke into tears.
Ultimately, three of the four boys were accepted to the small school. Gonzales received a full scholarship, and he graduated last June with a degree in kinesiology. His success, Gonzales said, "had a lot to do with Ale's influence."
Innovative Ideas Put into Action
Last fall, Franklin Principal Killgore, well-known as an innovative, forward thinker and one of the school district's movers and shakers, noticed that parents at her school, many of whom did not speak English, were forced to take their children out of school when they had appointments at social services agencies and other government offices, all located far from the neighborhoods they served. Bus routes, for instance, conflicted with school schedules, and parents had work obligations, which made it almost impossible to use services intended to actually help low-income families. All of this was blocking not only Franklin students but also the whole neighborhood from navigating a path toward achieving the American Dream.
Killgore decided the way to eliminate these barriers was a neighborhood resource center, a one-stop shop, bringing a multitude of practical services to one place; it was put into high gear by the offices of Assemblymember Das Williams and Supervisor Salud Carbajal. "What I see is the potential here of the state-level, county-level, and city-level interaction with the government and nonprofits — being able to serve a community directly, without sort of barriers," said Williams, whose family grew up on the Eastside.
Having known Gutierrez, now 31, through several channels, Killgore thought she'd be a natural choice as director of the Franklin Service Center, which is located on the Mason and Soledad streets corner of the elementary school campus.
Like all new programs, this one will take the right mix of stamina, luck, and monetary resources to truly take off. Lauded for being tough but supportive, Gutierrez, who was born and raised in Santa Barbara, may be just the right person for the job.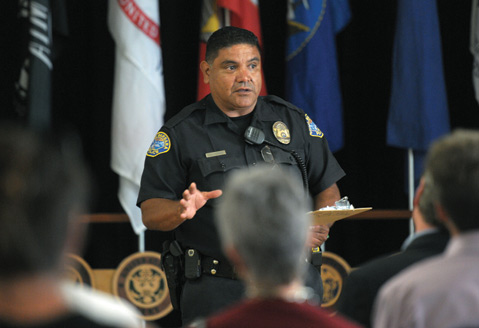 Eastside, Westside
Gutierrez comes from a typical immigrant family made up of two working parents and two kids, both girls. Her parents came here from the town of San Martín de Hidalgo in Jalisco, Mexico. Her father, José, worked as a mechanic at Ian's General Tire and her mother, Luz, cleaned houses in Montecito.
Ale grew up on both the East and Westside. She spent the first eight years of her life in a small rental on Canada Street before her family had saved enough to afford a house across town on San Andres Street. As a kid, she was surrounded by a number of extended family members. Always energetic, Ale would proclaim, "I want to help the Spanish people!" said her aunt Erica Gutierrez. "She always wanted to help people. She doesn't care what she has to do."
She was (and still is) particularly close with her dad's brother, Adrian Gutierrez, a well-known Santa Barbara police officer who serves on so many committees and volunteers for so many neighborhood civic groups that he is practically a small-town celebrity. "She's always getting everyone on the move," Adrian Gutierrez said. "When she sees people down, she picks them up."
Supported by a hardworking family, Alejandra and her sister, Maria, who is studying to be a nurse, are remarkable byproducts of their parents' determination.
But from the beginning, it did not seem that Ale was destined for a career in the school system. On the first day of kindergarten, she sobbed, grasping her father's leg, begging him not to leave her. But her teacher, Felice Fernandez, who works at the school to this day, made it clear she would stay. "I hated school," Gutierrez recalled. At times, she would even fake sick so she could go with her father to work; her family could not afford a babysitter.
Her mother, Luz, picked up tidbits of useful info about American life wherever she could. Cleaning housing one day in Montecito, Luz showed her employer Ale's report card that she had in her purse after a recent parent-teacher conference. Her employer was struck by the fact that Ale was classified as an English Language Learner; she was born here and could speak English when she entered kindergarten.
Shortly after, Luz marched into the office at Franklin and told the secretary, in broken English, she wanted her daughter to be in regular classes. "I can teach her Spanish at home. I want her to learn English here like all of the rest of the American kids," Luz said. By 4th grade, Ale shed the English Learner Label.
Ale still recalls moments when she did not feel like one of the rest of the American kids. At lunchtime, Ale noticed all of the white kids brought sandwiches in brown paper lunch bags. "My mom would give me a plastic bag from Scolari's and put burritos in there," Gutierrez recalled with a half-smile. "It was embarrassing! Nobody brought burritos. Now, it's like, 'You have a burrito? Cool! Can I have half?'"
In high school at San Marcos, Gutierrez joined AVID, a program to help often-underrepresented students prepare for college. In it, Gutierrez learned to take extensive notes and be confident. She dreamed of going to a four-year university, but she doubted it would be possible. No one in her family had gone to college. Graduating high school was a feat in itself. During senior year, she was accepted to UCSB, but her parents made her stay at home and go to City College.
At first, she hated it. She pleaded with her dad, who still drove her to school, to let her get a job so she could buy a car. But her dad insisted education should be her priority; no one could take that away from her.
Once she did get to UCSB, she was thrilled to be there. One day in a sociology lecture, her professor asked the students who had parents with a bachelor's degree to stand up. Quite a few did. Then he asked the students with parents with a PhD to stand. The two kids on either side of her stood up. She felt so proud. "I was there. I was finally with everyone else," she said.
Pay It Forward
Gutierrez is uniquely suited to help those whose childhoods resemble her own. She and her uncle, Adrian Gutierrez, have morphed their careers — in education and police work — into similar pursuits. Adrian Gutierrez was the driving force behind the Eastside community policy center, which in some ways is a perfect parallel to Alejandra's new work at the center. "A lot of people in the neighborhood are really hesitant to go to the police department," Adrian Gutierrez said. "Especially the ones who are not documented. They prefer to go here, to someone who speaks their language." The two Gutierrezes, drawing from personal experiences, are well suited to virtually wrap themselves around people who could benefit from the assistance.
In fact, the number of people who vouched for Alejandra Gutierrez, academically and personally, suggests she will have little trouble having an impact at the center. Sitting down with a group of seven of her former students, the group painted a picture of Gutierrez — both bold and compassionate, lighthearted and no-nonsense.
The group of 20-year-olds, who, with short notice, agreed to talk to me on a Thursday morning during semester break, said they were in college today in no small degree because of Gutierrez's help. All but one of them were the first in their family to go to college. "And we're just a fraction of the students she has helped," said AB Rico, a 19-year-old SBCC student.
One year, they told me, Gutierrez strong-armed 10 students to sign up for Express to Success, an accelerated math and English program at SBCC. She arranged a carpool schedule for the kids who could drive and piled the rest in her dad's truck. Another year, they said, a group of her students were stressed because prom was so expensive, so Gutierrez took them to Michaels to buy materials to make corsages and boutonnieres. She stayed up late working with them.
But Gutierrez is not just nice. There were times that Zahida Pacheco, now a 22-year-old CSU Northridge student, would beg her to fill out her scholarship application. "Ale would say, 'No, I helped you halfway. You do the rest,'" recalled Pacheco. To this day, Pacheco said, her parents still remember Gutierrez and often ask how she is doing. During our conversation, it became clear that Gutierrez had inspired each of them to push their friends to thrive, as well. Didn't get a particular scholarship? Try another one. And another.
She's the last person who would pat herself on the back, said Police Chief Cam Sanchez, who met Gutierrez through volunteer work she did in college. "She's helped to give back," Sanchez said. "And consequently, that's contagious."
A Community Affair
Since she started directing the center in October, Gutierrez has already begun to help the neighborhood, showing how to get in touch with representatives at Covered California, how to sign up for food stamps, how to help complete college applications … Through the center, she was able to distribute 80 bags filled with the makings of a Thanksgiving Day feast. And ideas for the future are endless. In the works are driver's license study sessions for undocumented people, a group led by Domestic Violence Solutions, and a fingerprinting machine to save job-lookers up to a $70 fee and a trip to the police department.
The entrance to the service center is located on the southeast corner of campus, though it is accessible from outside of the school gates. Inside, the office has two rooms, one with big windows, another where a large circular table takes up most of the space. It feels more like a community center than a school classroom, though the image of large, yellow diamond street signs that read "Children at Play" can be seen through the windows and remind you that you are in fact on school property.
Assemblymember Williams described the center as an old concept brought back in a new way. "Government should be easy to access," he said. "This is the right place for people to know these services exist."
The center is not just intended to serve those with kids. Anyone is welcome. Principal Killgore acknowledged that schools are not usually in the business of bringing such practical resources to surrounding neighborhoods, but that is not going to stop her from trying. "A few years from now, I want the resource center to be the place that people say, 'How did we live without it?'"
Alejandra on Film
As a bonus feature to this week's cover story, The Santa Barbara Independent's documentary team of Stan Roden and Phyllis de Picciotto created a short film and additional video segments on the life and work of Alejandra Gutierrez. See more of them below.
---