Film & TV
A Better You
Writer/director Matt Walsh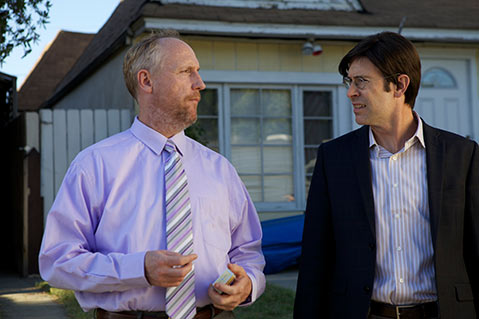 When you come up in the mecca of improv comedy, it's almost guaranteed that your film career is going to contain some curveballs. For Matt Walsh, who helped found the Upright Citizens Brigade alongside folks like Amy Poehler, Ian Roberts, and Matt Besser, the move to movies and TV has been a particularly adventurous one. In between roles on Veep and in almost every movie Todd Phillips has made, Walsh also jumped behind the camera to direct two fully improv feature films. The first, 2011's High Road, followed a young man who goes on the lam after a drug bust. This week, Walsh brings his second film, A Better You to the Santa Barbara International Film Festival. The story follows a self-involved hypnotherapist (played by Brian Huskey, who also co-wrote the film) stuck in a midlife rut he just can't shake. Starring a cast of Walsh's longtime buds, including Horatio Sanz, Natasha Leggero, Rob Huebel, Nick Kroll, and Walsh's wife Morgan, it's a hilarious and oddly thoughtful take on the agonies and the ironies of the self-help industry.
See facebook.com/abetteryoumovie.
Is it true you got the idea for this thing after trying to quit smoking?  
I think it was more the willingness of people in Southern California to explore alternative therapies. I moved to California ten years ago, and instead of always going to doctor or psychiatrist people out here will go to an aroma therapist or an herbal therapist of a reiki. It was more an exploration of the culture of that.
And you went to school for psychology, is that correct?  
I was! I was a psych major in college. I worked on a psych floor for three years. I thought I was going to be a psychologist. I did some post-grad work with disturbed adolescents, so I guess I've always been interested in pathology or remedies, the world of therapy.
Can you talk a bit about the process of making an improv movie? It sounds… challenging. 
It is a different process. It starts with an outline and you have to make sure that the story arc is solid and the emotional turns are there and that the character development is there. You spend a lot of time cranking out that outline and reshaping it and rewriting it and making sure it's solid. Then once you cast people in position you do a few rehearsals if you can so that everyone can get the tone of the movie. As far as filming, all the dialogue is improvised, but you're controlling it because you know what you need from that outline. When you improvise on set, you get a nice version before you start rolling, and then you cover it in a forgiving way. Then if there are new elements worth exploring, you try to set up covers so that you can go in isolation and get those moments. Hopefully once the scene is up and running it's really funny, so you're not improvising brand new dialogue every time, but rather tightening and continuing the momentum you already have.
I imagine the likelihood for actors to start laughing mid-take gets heightened, though. 
It definitely happens, people break up. But also everyone in the movie is a really accomplished improviser, someone I worked with or performed with, so you're kind of casting people for that skill set. That kind of hedges your bets against those moments where things get derailed because of laughter. It's fairly efficient once you have the write cast.
Was everyone pretty on-board with the idea when you came to them with it? 
Yeah. But they're also doing it because they're friends and they have a day off from whatever other thing they're doing. It's the best position to be in, having funny people who are also willing to come play for a day or two.
Your wife is also in the movie. How was that as a director?
[Laughs] That's a great question. Fortunately my wife is a great actress. We met when we were both pursuing our individual things, so she's a trained actress, she's funny. It was great. She's wonderful.
How would you compare making A Better You to making High Road?
 I think in some ways this one was easier because we learned to scale down practical elements, like fewer actors, fewer locations, fewer props. We were more fly-by-night and less ambitious in our beginning setups. But with the first there's that rookie high that's sort of amazing, and with the second there's more critical thought that comes in. I think you get better. There were a lot of lessons learned on the first one. I think we were more streamlined in efficient in the second one. I'm not a trained film school director, so sometimes I feel like we're making outsider art or folk art because we're incorporating improv, which is this other thing you have to wrangle. I feel like the films I've made are not traditional — certainly budget-wise, but also in the approach they're pretty untraditional.