Film & TV
A Snake Gives Birth to a Snake
Director Michael Lessac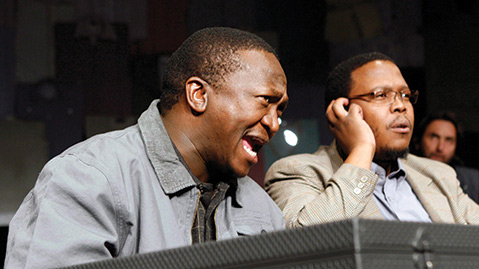 A diverse group of South African actors tours war-torn regions of the world with Truth in Translation, a theatrical reenactment of transcripts from the Truth and Reconciliation Committees. Through presenting the atrocities of apartheid in places where audiences are preoccupied with unresolved conflicts of their own, the performers elicit raw testimony from others, and in the process find out that they must confront the divisive issues of their South African past once again.
See asnaketoasnake.com.
Your title derives from a particularly vivid image offered by a man who was asked why he hacked a baby with a machete. Has the title been understood and appreciated by audiences?
As the actors traveled through conflict zones with the live production of Truth in Translation it became clear that this idea, that it is rational to kill the children of our enemies because "a snake gives birth to another snake," seemed to plague every culture we visited. Each culture, coming out of genocide or massacre, had a similar phrase in their own history. I believe it is subconsciously in our culture as well. For some it is a convenient entitlement to kill, for others it is a justification of our fear. To quote Graham Green, "Hatred is just a failure of imagination".
The development process for this film involved several stages, including a theatrical production. What were some of the benefits of working in this way?
Actually in the beginning we weren't going to make a film. We didn't have the money. We shot when we could just to document for the future maybe for university archives or for other actors and artists to see what could be done. We never knew what would happen next and so there was no real plan during the shooting except to capture what we were going through as best we could. When the play became a success, we started to get some funds and were able to film on the road. But as we toured and the real drama started to happen we realized we might have a film here. So we hustled a lot, reshot a little and found a wonderful editor in Joel Plotch.
The concept behind the Truth and Reconciliation Committee's work is not current in all places where such conflicts have occurred. Could you describe how the film was received in such locations as Northern Ireland and Rwanda?
Many people in the Balkans told us not to bring the theatre piece because they thought that we would cause a lot of trouble among warring factions still existing, that we'd open old wounds, that we would trivialize their pain with the comedy and music, and outrage victims to violence. Sometimes it was as simple as their not wanting to hear of a TRC until they could extract vengeance. They just wanted traditional retributive justice.
Of course we decided to go anyway and the reception was huge from Kosovo to Bosnia, from Serbia to Croatia. In the North of Ireland/Northern Ireland reactions were just as positive to the play but they felt their situation was different because the old leaders were still in power and they felt that if their leaders would not take responsibility why should they.
Rwanda understood. Rwanda had their own traditions which allowed them to make truth commissions of their own. Bottom line: In some places we started arguments all over again…and that was good. Dialogue started. In other places people took a lot of hope in idea of trading truth for punishment.
The film has yet to play in all of these places — we are just starting the festival route. But private test screenings in Kabul, Sarajevo, Paris, Berlin, and some cities in the U.S., had real dialogue come out of this just as it did with the live music production which, as you can see from the film, raised fierce debate around the subject of the South African TRC. We got no closer than anyone else to solving world problems but we were able to encourage artists, theatre people and filmmakers, actors, writers, and journalists, especially young students, to continue the debate and reactivate the idea of justice as truth rather than punishment.
Me personally? I can only hope against hope that I live long enough to some day see a truth commission in our country.