Film & TV
Chadwick Boseman Is Proud to Be James Brown
Get on Up's Star to Receive SBIFF Virtuoso Award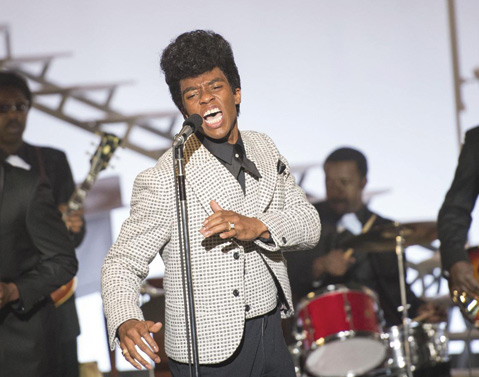 This year's model Academy Awards controversy revolved around the whiteness of its nominees. In particular, critics from Rolling Stone to Time complained that Selma star David Oyelowo wasn't even nominated for his stirring work as Martin Luther King Jr. But before there was Selma, there was a more amazing performance in the biopic Get on Up, which featured an astonishing turn by a young black actor named Chadwick Boseman, who plays James Brown like a sex machine, navigating choreographed splits and a richly detailed tale of a performer with an astounding ego and a troubling life formed in a crucible of deep Southern poverty. Boseman, who receives a Virtuoso Award at this year's SBIFF, made every cocky physical gesture resonate with feeling, and he also got no nominations.
"I love the movie, though I don't really read reviews when I work on something," said Boseman. He seems unconcerned by critics or award-show evaluations. "I am aware that we got pretty good props for it. That's mainly because the movie has James Brown's voice in it. I think you have to say that he contributed a major voice to American culture, and a lot of people used his voice to get to their own, whether it was pop, soul, or hip-hop artists. If this movie accomplishes anything, it might be that we shed some light on that voice."
That voice was where Boseman started, studying Brown on records and watching all the footage he could. "I started by listening to the man, the way he sang. Even the lyrics he wrote, they were all full of surprises." It was immersive work to the point of infiltrating Boseman's brainwaves. "For a couple of months afterward, I had to stay away from the music, even music that sounded like Brown," he laughed. "I listened to a lot of movie scores, a lot of Hans Zimmer."
A playwright before he began acting, Boseman got to supply some influence over director Tate Taylor's film. "The script of Get on Up was always a work in progress, and there were day-to-day wording changes," he said, though the entire prep for the film took a mere 60 days. Boseman got two months to interview Brown's family, read biographies, hear music, and take five-hour dance classes. And it shows in the showstopping performances, real even though the music was dubbed. "We did it all. When you see us performing, the band is playing, and I was really singing. The crowds, the extras, got into it, too. I got to feel like a rock star."
He's about to feel even more cosmic. Boseman plays Thoth in Gods of Egypt and just signed a five-film contract to play Marvel's groundbreaking superhero Black Panther. One wonders how he will walk down mortal streets. "The funny thing is these are all such different roles; I am able to walk down the streets without being noticed." He's also not worried so much about Academy slights. "When it comes down to it, I'd rather have an action figure than a Golden Globe."
SBIFF's Virtuoso Awards take place at the Arlington Theatre Sunday, February 1, at 8 p.m.