Arts & Entertainment
Steppenwolf's John Kay Gives Big
Montecito's Resident Rocker Talks Humanitarian Work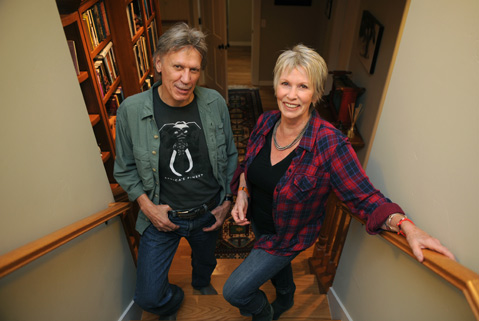 Every 15 minutes, a majestic elephant is killed for its tusks. Rhinoceros are slaughtered so their horns can serve as alleged aphrodisiacs. Orangutans cling to increasingly deforested habitats in Sumatra and Borneo.
Steppenwolf frontman John Kay is outraged by this. The Montecito-based singer/songwriter, best known for legendary hits "Magic Carpet Ride" and the presciently titled "Born to Be Wild," is passionately committed to helping people who, as he puts it, "have their fingers in the dike" of wildlife extinction. In 2004, along with partner and wife Jutta Maue Kay, Kay established the Maue Kay Foundation, which provides financial assistance to a collection of carefully curated organizations, many of which are dedicated to the eradication of human-wildlife conflict.
Kay's music has always had an undercurrent of social consciousness. As a young boy, he escaped from East Prussia with his mother and was later introduced to rock 'n' roll while listening to the U.S. Armed Forces radio in West Germany. These early experiences left an indelible mark on the young Kay, paving the way for a commitment to powerful music coupled with meaningful lyrics. This was further cemented in 1965, when Kay attended a topical song workshop at the Newport Folk Festival with the likes of Bob Dylan and Phil Ochs.
With eight gold albums and worldwide sales of more than 25 million records, Kay and Steppenwolf are bona-fide rock stars. In their heyday, the appeal was enormous: Their music became the soundtrack of the Vietnam War, songs like "Monster" the anthem of protesters.
More than five decades later, the eloquent and charismatic Kay finds himself playing to "two and a half generations" of listeners. He often jokes that today's Steppenwolf is "five young men that happen to inhabit vintage bodies," though watching him perform, that's not quite the case. Limber with a full-throttle voice, Kay still inhabits the stage with all the presence of a rock heavyweight.
He limits himself to 10-12 concerts a year, which he does primarily to fund the Maue Kay Foundation. This Friday, January 30, Kay takes to SOhO for an acoustic set in support of the venue's own ongoing fundraising efforts. "Instead of another house or something like that, we put our resources into the hands of those who work to preserve what we feel has a right to exist on this planet," Kay says of his philanthropic work. The Kays' desire to do something tangible was first sparked by a visit to Cambodia, where they witnessed the vestiges of the Khmer Rouge genocide. Most of the educated population had been murdered, and the country was still struggling to rebuild its school system. The Maue Kay Foundation was launched with the creation of the Tith Mom School in 2004, which continues to flourish today.
Over the last decade, the Kays continued to cherry-pick organizations that protect wildlife, the environment, and human rights. The issues closest to their hearts now are the critically endangered species of elephants, rhinos, and orangutans. At the present rate of slaughter, through poaching and habitat loss, these majestic creatures will vanish in the next 10-15 years.
Despite the desperate situation, the Kays are not defeatists. As Jutta points out, there is more information disseminated now than ever before, and successful sanctuaries such as the Lewa Wildlife Conservancy in Kenya demonstrate the real possibility of reversing the damage. This world-renowned 62,000-acre, high-security sanctuary has fostered the recovery of the nearly extinct black rhino, engaging the local population and establishing nearby schools and hospitals to ensure the continued support of the regional community.
A self-proclaimed "news junkie," Jutta is the keeper of the Maue Kay Facebook page, constantly apprising followers to issues of human rights, wildlife, and the environment. She's also a gifted photographer, and her extraordinary images portray the heartbreaking beauty of the disappearing species and their precarious surroundings. On the Maue Kay YouTube channel, John has created a series of remarkable mini-documentaries, his slightly accented voice serving as a guide to these far-flung destinations. This year, John and Jutta celebrate their 50th anniversary. The soft-spoken power couple will continue to dedicate their time, money, and efforts to ensure more awareness and action on behalf of the organizations they vouch for and support. Now living here in Santa Barbara, they hope to inspire our community to get informed and involved, too.
4∙1∙1
John Kay plays a solo set at SOhO Restaurant & Music Club (1221 State St.) this Friday, January 30, at 8 p.m. alongside The Dirty Knobs. For tickets and info, call (805) 962-7776 or visit sohosb.com. For more on the Mau Kay Foundation, visit mauekay.org.