Theater
Ensemble's Intimate Apparel Is a Tight Fit
Lynn Nottage's Play Goes up at the New Vic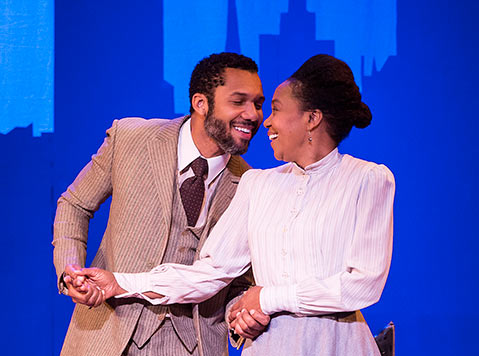 Consider the corset. Once a staple of any respectable woman's wardrobe, today it has been reduced to vestigial status as costume or fetish, and with good reason. As centuries of women discovered, tight-laced corsets hurt. Each scene in the Lynn Nottage play Intimate Apparel, which opens this week at Ensemble Theatre Company's New Vic, is labeled with the name of a corset. For example, Scene 2 is headed with the description "Gardenia Ball Corset: Pink Silk and Crêpe de Chine." While this is primarily due to the protagonist's occupation — Esther sews lingerie for a living — it's also Nottage's way of indicating that each scene represents another tightening of the mental laces and emotional stays that bind and wound women every day. The playwright wrote this piece about the life of a single 35-year-old African-American woman supporting herself as a seamstress in New York City circa 1905 after seeing a photo of an "unknown" woman working at a sewing machine. Through her imagination, a whole world has been created, including six distinctive and memorable characters ranging from Mr. Marks, an Orthodox Jewish tailor, to Mayme, an African-American courtesan.
For director Saundra McClain, the play represents an opportunity to explore "people from different strata of life all seeking intimacy in a place where there was so little privacy." At the same time that Esther, played by the award-winning actress Karole Foreman, pursues a long-distance relationship with George, an immigrant from Barbados, she yearns to connect more fully with Mr. Marks, her closest colleague in the corset business. Although the physical distance between Esther and Mr. Marks is often minimal due to the cramped working conditions on the Lower East Side, the cultural constraints laid on them by race and religion demand that the feelings aroused by this proximity go unexplored. Through a series of two-person scenes, all of which feature Esther, Intimate Apparel shows what it means to be a woman who, despite years in service to the illusion of a feminine ideal, has never realized that she, too, is beautiful.
Race and religion are not the only forces arrayed against Esther in her search for connection — she's also illiterate. Her relationship to George, her immigrant fiancée, is thus twice removed: once by its epistolary nature and again by the fact that Esther must have her friends write her letters for her. Rather than seeing this unfortunate situation as one more relic of the distant past, McClain identifies it as evidence of the drama's continuing relevance, asserting "They fall in love with each other through their letters, and it's really not them, it's the letters that fall in love with each other." As in online dating, they don't know what they are getting because the messages they send and receive can be just as misleading as they are romantic or seductive.
As Esther, Foreman brings a wealth of experience playing complex central characters to the role. Her recent performances in Wedding Band and Next to Normal were met with rapturous acclaim by Los Angeles and Orange County critics, and many Santa Barbara theatergoers will remember her star turn in PCPA's 2011 production of Tony Kushner and Jeanine Tesori's Caroline, or Change. While this show does dwell on the specifics of a particular time and place — New York's garment industry in the days before the Triangle Shirtwaist Fire — the themes it deals in are timeless and universal. As McClain puts it, "These characters are in intimate contact every day, but when they try to touch emotionally, they can't reach one another, and it's not because of the space they are in; it's because of the walls they've built around themselves with ideas. It's ideas about things that keep these people apart."
4.1.1
Intimate Apparel opens at the New Vic Theatre (33 W. Victoria St.) on Thursday, February 5, and runs through Sunday, February 22. For tickets, showtimes, and information, call (805) 965-5400 or visit etcsb.org.