Film & TV
Review: Two Days, One Night
Marion Cotillard, Fabrizio Rongione, and Catherine Salée star in a film written and directed by Jean-Pierre Dardenne and Luc Dardenne.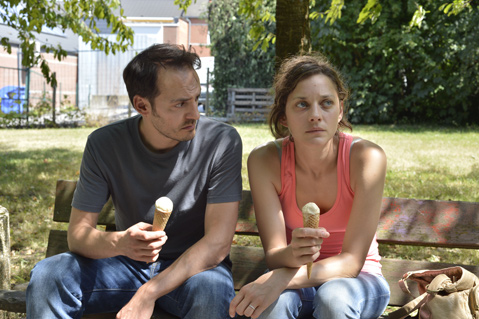 It's hard to avoid comparison between Two Days, One Night and the recently released Cake. Both films are tightly composed, dark character studies. Both focus on middle-aged women in crisis. And both hit their climax as their central characters hit rock bottom. In fact, where Two Days and Cake differ really just lies in the delivery. While Cake spirals out in a number of strange and supernatural directions to trigger our tears, Two Days, One Night plods along evenly and slowly, making for a film — and a story — that's painfully reminiscent of life as we know it.
Marion Cotillard plays Sandra, a beautiful but sad young mother who goes back to her factory job after taking leave to deal with her depression. When she returns, she finds herself at the heart of a troublesome battle: Her coworkers are being forced to choose between keeping her on staff and keeping their yearly bonus. The rest of Two Days' two hours unfolds in a series of awkward, sometimes violent interactions between Sandra and her peers as she tracks them down, one by one, and pleads for their support in allowing her to keep her job. The task is humiliating, heartbreaking, and at times even degrading, thanks in large part to Sandra's still-fragile state. Meanwhile, her chef husband (Fabrizio Rongione) and best friend/coworker (Catherine Salée) urge her along, blind to (or maybe in denial about) how close Sandra is to shattering.
The plotline is almost comically simple, but Cotillard's subtle tics and slow unraveling make it feel wholly compelling. Her performance, paired with directors Jean-Pierre and Luc Dardenne's romantic, light-leaked, and carefully panning shots, create a slightly surreal feel to the whole thing — a strategy no doubt meant to be indicative of the antidepressant fog that Sandra finds herself stuck in. In the end, though, Two Days, One Night is not a depressing film or a feel-good film or even a morally grounded film; it's a slice-of-life film that triumphs because it's not afraid to be all three.