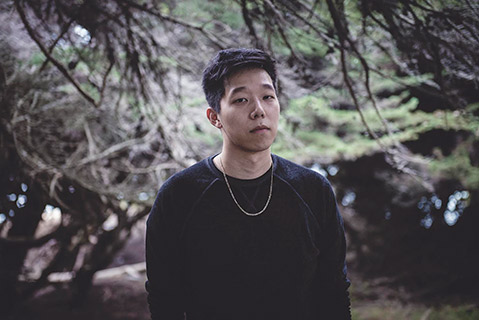 Plenty of musicians dedicate songs to loved ones, like fathers, lovers, or friends. Then there are artists like Giraffage, whose recently released EP, No Reason, features a song called "Chocolate," named and written for the artist's pet Chihuahua. This is a perfect example of what makes the San Francisco producer otherwise known as Charlie Yin stand apart from his fellow up-and-comers. His Facebook page lists Giraffage's genre as "idk idc whatevr dude." In conversation, he calls the music he makes "cute, pretty, and sparkly." As a friend of Charlie's, I've read a wealth of other descriptors, too, from "cartoonish and pleasant" to "soothing" to "experimental" and "dance-floor ready." Call it what you will; my advice is to just go listen. This Friday, February 27, Giraffage returns to Santa Barbara to headline a night at EOS Lounge. In advance of the show, I caught up with Charlie via email to discuss music, pets, and the crown jewel of the Santa Barbara burrito scene.

For those who might be unfamiliar with who Giraffage is and what you do, briefly fill us in. My name is Charlie, and I'm basically a low-key computer nerd that makes music.
From a friend's perspective, I would have to say last year was a pretty big year for you. You played every single showcase imaginable at SXSW, signed to Fool's Gold Records, released an EP, went on tour with Porter Robinson. Was there anything else that I missed? Those were the big ones for sure. I did a few international dates, as well — in Europe and in Australia. Also, one of the highlights for me last year was working with The-Dream at his studio in Miami. That was nuts.

I can't believe it was only a year ago that you played SOhO. From what you can remember, what was your impression of Santa Barbara? How will this show be different from your last? I honestly had no idea what Santa Barbara was like, since I'd never been there before that. People came out and it was a sold-out show, full of energy. It was really tight! This time around will be different since I'll have my light set up. It should look really cool.
In addition to it being your first show in Santa Barbara, you also paid a visit to Isla Vista afterward that was quite memorable for those involved. How was it? And how would you rate your Freebirds experience? It reminded me a lot of my college days for sure. Also, Freebirds was out of this world, and I want to go back there every single time I'm in Santa Barbara from now on.

I know you're into food. What's the best meal you've ever had? Possibly the time I went to the Tsukiji fish market in Tokyo. It was like 7 a.m. and they had just caught the fish at 5 that morning. I died and went to sushi heaven that day.

For those visiting San Francisco, where should they hit up for pho? If you're coming to S.F., definitely go to either Miss Saigon in the Tenderloin or Y&Y in the Richmond District.

What are the must-haves on your rider? What's your fast food guilty pleasure when you're on the road? I have a dog/cat/furry companion on my rider, but I have yet to receive it. I also have a disposable camera on my rider, which is great for tours. As for fast food, I'm partial to Whataburger in Texas and Chipotle anywhere else. I don't feel guilty about it, though. No shame here.
The last show I went to, the band requested attendees to bring beads, and I've known in the past that Grimes would ask for flowers. Is there anything you'd be joyous to receive at your upcoming show at EOS? I love receiving gifts! I've received necklaces, bracelets, and other really cool things. I also love candy gifts. I'd be stoked to receive some candy — the edible kind. More specifically, I love sour belts, Sour Patch Kids — anything that's flat-out sour (hint, hint).
What's next on your agenda? Lots of touring and lots of studio time and lots of hanging out with my cat!!!
411
Music Is Love and We the Beat present Giraffage and Spazzkid at EOS Lounge (500 Anacapa St.) on Friday, February 27, at 9 p.m. The event is 21+. For tickets and info, visit eoslounge.com.