Theater
Review: The Insect Comedy at Westmont College
Satire Takes a Bug's-Eye View of Human Society at Porter Theatre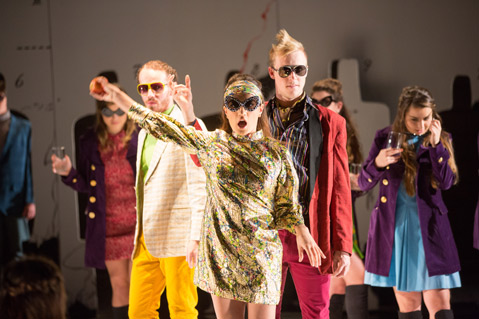 Throughout the modern era, artists have turned to insects in search of metaphors to convey the intensity and alienation of contemporary life. From Bernard Mandeville's fable of the bees in 1714 to Franz Kafka's story about Gregor Samsa's metamorphosis into a beetle in 1915, the perspective on human behavior provided by viewing it along lines suggested by the observation of insects has resulted in an extraordinarily wide range of ideas and disputes.
Of all these buggy meditations, Karel and Josef Capek's 1921 play The Insect Comedy, onstage now in an excellent student production at Westmont's Porter Theatre, may be the most thorough. Not only does this elaborate satirical moral allegory include the widest variety of insects — butterflies, moths, beetles, ants, crickets, and flies, just to name a few — it also commands the broadest array of human behaviors. From romantic love to miserliness to fascist totalitarianism, these bugs have seen and done it all. Thanks to director John Blondell's inventive vision, not to mention the disciplined efforts of a talented cast, this production succeeds in rendering what could become an inconclusive grab bag of attitudes into a coherent piece of theater.
The key decision that propels The Insect Comedy in the right direction is the choice to exclude overly metamorphic insect costumes. In other words, don't expect to see plastic masks, padded bee suits, or even the festival-ubiquitous butterfly wings. Costume designer Miller James instead does a superb job of indicating species with variations on human attire; his butterflies wear brightly colored mod dresses and big plastic sunglasses, for example. This in turn frees the cast to express their insect natures through dance, which is where the production reveals its greatest strength. As was apparent in last season's award-winning The Pirates of Penzance, Blondell has turned Westmont into one of the country's most progressive places to study movement-based theater, and The Insect Comedy represents another leap forward.