Arts & Entertainment
Review: Lucinda Williams at the Lobero Theatre
Singer Declared She's "Not Your Typical Americana Artist"
"This is a beautiful theater, but they gotta take some of these seats out next time. I'm not your typical Americana artist," joked singer/songwriter Lucinda Williams at the end of her second encore at the Lobero Theatre last Friday night.
Lucinda and her band — guitarist Stuart Mathis, bassist David Sutton, and drummer Butch Norton — took the stage and wasted no time diving into "Something Wicked This Way Comes," a broken blues stomp off Williams's exquisite new album, Down Where the Spirit Meets the Bone. By the first chorus of song two, "Car Wheels on a Gravel Road," Williams was struggling to hit the high notes, and it became apparent that she was likely fighting a cold, which explained the array of tissues, throat spray, and cups of tea resting on the road case behind her. Lucinda stopped the song and made the executive decision to start it over again from the top. From that point on, the singer's inimitable voice regained it's mojo as she proceeded through a well-rounded set that paid homage to her catalog and thoroughly showcased her brand new material.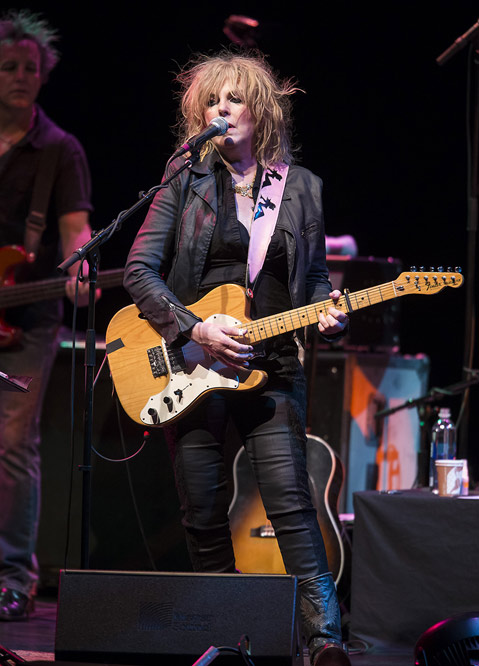 She sang us beloved songs like "Drunken Angel," "2 Kool 2 B Forgotten," "Concrete and Barbed Wire," and "Lake Charles," as well as pre-fame gems such as "Changed the Locks," "Pineola," and "Hot Blood" (off 1992's excellent Sweet Old World). There were songs from relatively recent albums, like 2001's Essence ("Blue," "Out of Touch," "Get Right With God"), 2003's World Without Tears ("Real Live Bleeding Fingers and Broken Guitar Strings," "Righteously"), and 2007's introspective West ("Are You Alright," "Unsuffer Me"). And they all reminded us that Williams has enjoyed a pretty prolific 21st century so far. The new songs were instant classics, too. ("Protection" and "West Memphis" stood out.) At one point, Williams picked up her trusty Gibson J-45 acoustic guitar to sing us a few cuts from her new record sans band, including "Compassion" (set to one of her late father's poems) and the stellar "When I Look at the World."
Then Doug Pettibone (John Mayer, Keith Richards, Norah Jones), Lucinda's former guitarist of nine years, joined the band for the encores.
Red wine in hand and a reluctant yet joyous smile on her face, Williams was reeling in the scene unfolding before her, which had taken the better part of her two-hour set to happen: The audience was crowding up front and dancing, throwing their seating-assignment caution to the wind.
I suppose even the most polite crowd can only keep their cool for so long when Lucinda Williams ends her set with a fun-loving cover-song blitz of AC/DC's "It's a Long Way to the Top (If You Wanna Rock 'n' Roll)" and Neil Young's "Rockin' In the Free World." Now here's hoping the crowd's reaction will be enough to lure Williams back to Santa Barbara soon.