Film & TV
Review: Gett: The Trial of Viviane Amsalem
Ronit Elkabetz, Simon Abkarian, and Gabi Amrani star in a film written and directed by Ronit Elkabetz and Shlomi Elkabetz.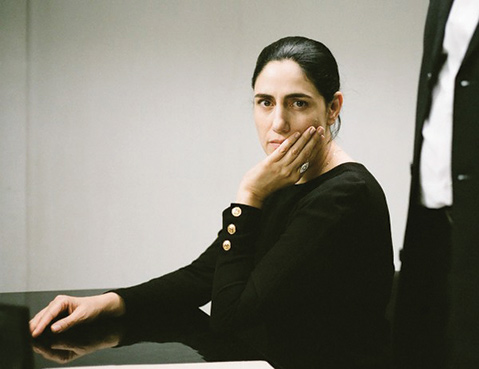 Say what you will about the cultural-significance-turned-cultural-meme that was International Women's Day, but I have to think there was something kismet about spending my March 8 with Gett. Actress and filmmaker Ronit Elkabetz is the force behind Viviane Amsalem, a woman trapped in a particular kind of marital purgatory. This film opens and lives in court, where Viviane fights (for more than three years) for a divorce from her husband, Elisha (Simon Abkarian). Because they live in Israel, where civil divorce does not exist, Viviane must make her plea to a panel of rabbis who act as judges. Though she's lived away from home for years, never cheated, supports herself, and cares for her children, Viviane's fate ultimately rests in her husband's hands. In order to successfully divorce, he must concede to the court that he's willing to set her free.
Over the course of Gett's two-hour runtime, we're slowly raked over the coals right alongside Viviane. Character witnesses are dragged in and out of the courtroom, and both parties' lawyers (Elisha's brother, Viviane's friend-turned-attorney) squabble over the other's culpability. Elisha, for his part, is the stand-up Jewish citizen to Viviane's self-possessed, defiant wife. He keeps kosher, and she does not; he abides by the Sabbath, and she does not; he allows her to do as she pleases, and she refuses to live under the same roof. But the reality of the situation bubbles just below Elisha's stoic, silent exterior: As a husband, he is controlling, manipulative, and exacting, and he's made Viviane's life hell since they married when she was 15. In that regard, both Elkabetz and Abkarian stun: He oozes evil with barely a look; she slowly comes undone the longer he makes her wait.
On one level, Gett does a beautiful job of casting a harsh light on the state of marital rights on the global scale. On another, it's a riveting tale about the strange tug-of-war that happens in many relationships. More than anything, though, the film is a powerful look at how, in a society and infrastructure built by men, a woman's voice can go unheard, ignored, and outright dismissed because of her perceived inferiority. There is still much work to be done.