Visual Arts
Review: Missing Rib at SBCC's Atkinson Gallery
Painter Maria Rendón's Star Is Rising
One of the many dividends of Missing Rib, the powerful new Maria Rendón solo show currently on view at SBCC's Atkinson Gallery, is experiencing the way it exemplifies so many principles common to successful contemporary art exhibitions. Looking around the Atkinson Gallery on a recent evening, it was easy to imagine how a lucky professor might use this show to teach artists. "You see?" she could say, "This is how it's done." What does that mean in this case? As an experiment in criticism, let me put it in terms of instructions, as in instructions on "How to do things with art."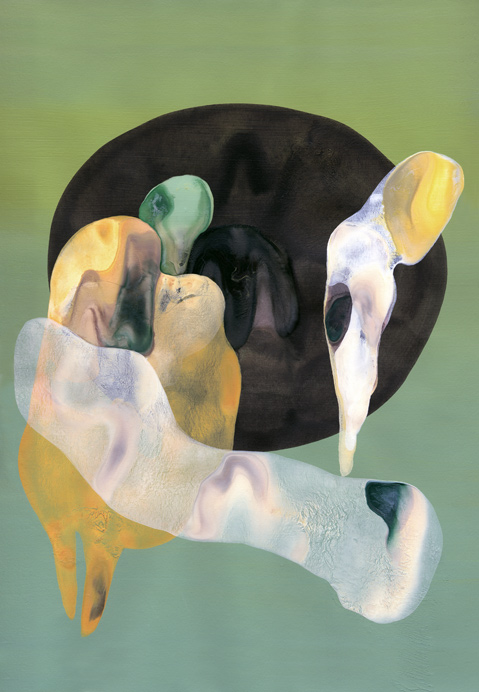 Instruction 1: Convert the space to immerse the viewer. Although it's not entirely visible from the hall, immediately upon entering the gallery, one confronts "Accidental Virtue," a giant painted collage that Rendón has assembled on the Atkinson's south wall. In this work, the artist has woven dozens of shapes cut from her paintings into a single sensational composition. In the space of this one large piece, Rendón shows an abundance of the interesting things she can do. Accidental or not, the piece establishes her virtues as a colorist, a designer, a painter, a sculptor, and even as a kind of medium or mystic. By taking the big wall as a canvas, Rendón converts the gallery into an integral part of her work, rather than allowing it to remain a neutral receptacle, and through that she makes a participant of the viewer. Elsewhere in the space, three-dimensional works like "Dust to Dust" and the variable Post-it piece "Unfixed" echo this initial invitation to participate.
Instruction 2: Lather, rinse, repeat. To make "Untitled," a series of small paintings displaying variations on an oval, Rendón invented a new way of working. She has merged the vibrant palette and frame-filling figures of color-field composition with the fluid dynamics of action, painting by pouring and swirling these egg-shaped acrylic illusions into existence. The layered and multihued objects thus obtained have the grace and presence of Cézanne's apples and oranges, which is to say they are quite glorious. And how many apples do you suppose Cézanne painted? Well, considering that he once boasted, "I will astonish Paris with an apple!" the answer is likely quite a few. Rendón's "Untitled" ovals occupy a similar position in her oeuvre. They are the things that she does over and over in ritual repetition.
Instruction 3: Embrace the nothing that is. As the exhibition title Missing Rib indicates, this show revels in negative space. From the wreaths of leftovers that cling together in "Dust to Dust" to the eerie, washed-over, seemingly empty spaces of such ambitious major paintings as "The Last Corpuscle," "Bovine Malaise," "Lemur Like," "Modern Humans Emerge," and "Embrio," the artist consistently bolsters her virtuosity with restraint. Rendón knows how to let paint and surface collaborate to manifest "the nothing that is," that ineffable quality that's still there when the "nothing that is not there" has gone. From a savvy, confident artist who embraces "the nothing that is" this intimately, there will always be a lot to learn.