Visual Arts
Review: Arts Fund Sculpture Survey
Eight Artists Explore Another Dimension
Although the physical dimensions of the room remain the same, under the direction of Brad Nack, and with Nancy Gifford co-curating, the imaginative space manifested by the Arts Fund Gallery continues to grow. With this new Sculpture Survey, which is on view through April 25, the team of Nack and Gifford takes the measure of several generations of Santa Barbara sculptors, and the result is both fresh and inspirational. These aren't just eight good sculptors; these are eight strong artists in the broadest sense, meaning creators capable of transcending categories and defying expectations while simultaneously delivering intense aesthetic pleasure. From Claire Frandsen's "Pocket-Sized Conan" [O'Brien] to Ed Inks's imposing and bulbous welded wire piece "by all odds," there's a continuous sense that, by embracing three dimensions, these artists also break free of many of the constraints of artistic convention.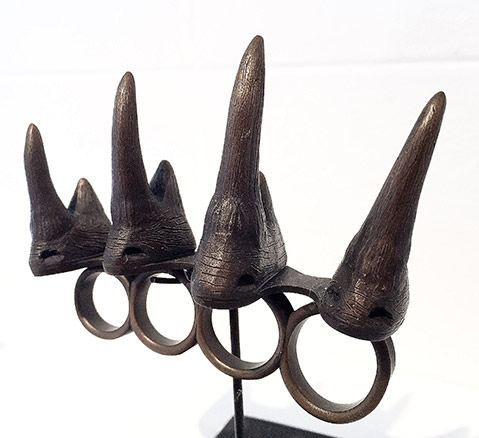 Three small objects rendered in bronze, silver, and copper represent Frandsen's work. There's the aforementioned pocket Coco, instantly recognizable even in this semi-abstract striding figure portrait. Then there's "The Rhino's Guard," a scary/blingy riff on brass knuckles, and finally "Wild Game," a mini-menagerie. Frandsen has a neat sense of scale and an original, offbeat tone that elevates these tabletop oddities even as they slip over and around the ordinary expectations for subject matter in bronze.
In Westmont faculty member Nathan Huff's work, tall, skinny metal plinths sometimes emphasize the vertical aspirations of his highly personal constructions. For example, his "Self-portrait at 34" shoots up to chest height before coming together in a delicately balanced tangle of miniature balsawood chairs and a hammer. The hammer-and-chairs motif returns on the horizontal in "Wisdom Council on Work," and the soaring stand comes back into play in his third object, the timely "Drought & Blob," which imagines stretched animal figures as the captives of a familiar water faucet.
In this show, the Arts Fund Gallery's big entrance wall belongs to Ben Eckert, a recent product of SBCC's sculpture program run by Ed Inks. While demonstrating certain distinct points in common with his mentor, including the use of carefully bent, brightly colored wire, Eckert's sensibility causes him to gravitate more frequently toward straight lines and right angles than the curves and spheres so evident in Inks's work. Eckert employs an unusual naming convention involving eight-digit numbers. Thus his most colorful statement, "20140227," a carnival of intricately turned, bright-green wire set in boxes of purple with orange accents sneaks into the viewer's unconscious disguised as a statistic.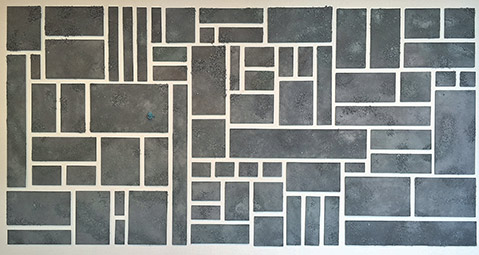 Michael Arntz, who taught sculpture at UCSB until 2003, contributes three of the show's most dynamic entries. "Blue Moon," a substantial stoneware work, displays the same mottled animal-stripe patterning and serpentine, bulbous shapes that make Arntz's other large piece, "Inorganic Creativity," so memorable. At the same time, and on a smaller scale, his various iterations of "Stone soup for you?," a sly riff on the "primitive" vessel, and the beautiful, mysterious split cube known as "Broken Symmetry—Life on Earth" demonstrate the artist's facility with repurposing the coral-like irregularities of mineral deposits. Arntz is an important Santa Barbara artist. Let's hope he receives a well-deserved retrospective soon.
R. Nelson Parrish's "Gaviota 2015," with its dangling "reclaimed saw mill flitch" and sea stones, makes a great companion to the earthiness of Arntz. Occupying the other end of the spectrum between nature and culture, Greer Mehler's sculptural renderings of ice and snowfall rely for their effect on the artist's talent for repurposing industrial materials. In the show's only openly participatory installation, Shannon Willis has created a device for capturing the viewer's emotional charge, the aptly named "Tear Collector." Like the rest of this excellent survey, it presents a welcome challenge and a refreshing shift from our everyday ways of looking at art. The artists will gather for an informal discussion of their work in the gallery on Friday, April 10, beginning at 6 p.m.