Briefs
Richard Box Sentenced for Sex Crimes
He'll Serve One Year in Jail, Five Years Probation
On Tuesday afternoon, 70-year-old Mesa resident Richard Box was sentenced to one year in jail and five years of felony probation after pleading no contest to felony sex crimes and domestic violence charges in February.
Box was first arrested in December 2013 after being accused of repeatedly abusing and raping his wife during their three-year marriage and molesting his then-15-year old stepdaughter, who authorities said was living in a small closet under a stairwell and being groomed as Box's sex slave. Box and his wife married in 2011, after his wife and her daughter relocated from Thailand to live with him.
Box was released on his own recognizance on Christmas in 2013 after posting $2 million bail, but his encounters with law enforcement were far from over. Less than a month after his original arrest, Box was charged with two more counts of child molestation, stemming from a 2012 Long Beach case in which Box allegedly exposed himself to a 12-year-old girl who lived in an apartment complex he owned, and asked her to perform sexual acts on him.
Despite originally pleading not guilty to all charges against him and having his lawyer, Steve Balash, waive his right to a preliminary hearing and thus agree for a trial to take place, Box submitted a no-contest plea to four charges of committing lewd and lascivious acts upon a child, inflicting corporal harm to a spouse, and committing sexual battery. If he had been convicted by a jury, he could have faced nearly 20 years in state prison.
When asked about the change of plea, Balash noted that Box's age made the risk of being found guilty at a trial a lot higher. "He's 70 years old, and if he went to trial, and he lost, his life is over. His chances of survival are slim," he said. During the sentencing hearing, prosecutor Paula Waldman maintained that the year in jail must not be served by any custody alternative nor electronic monitoring.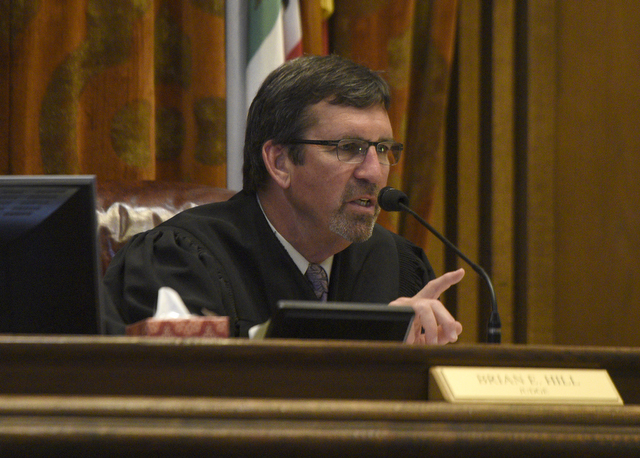 The rest of the afternoon's proceedings centered around clarification of the probation agreement reached between Box, his attorney, and the prosecution. While some provisions seemed clear, such as entering into a batterer's treatment program and registering as a sex offender for the rest of his life, Box expressed concern about being able to keep up with others. As part of the agreement, Box is forbidden from contacting his stepdaughter — both indirectly and directly — and is prohibited from being within 100 yards of her current home for the next 10 years. After Box repeatedly brought up scenarios in which he could potentially be in violation of this provision, Hill bluntly admonished him by saying, "You're making this a little bit more complicated than it is." If Box is found guilty of violating any of the terms of his probation or commits any new offense, he will be sentenced to 10 years in state prison.
A brief Victim Impact Statement was submitted to the court on behalf of Box's wife, but wasn't read aloud to the rest of the courtroom. In the statement, the victim claimed that her husband is a "changed man" and asked that he be sentenced to house arrest rather than prison time, so that he "could fix things in the house," "take care [of her]," help her with her schooling," and "translate to [her]." She concluded the statement by saying, "If you want to do best for me, keep my husband at home."
Following the sentencing, Balash expressed disappointment toward the way Box's case was treated, especially with the imposition of a $2 million bail. "Sex offenses today are a hot topic. The punishment gets harsher and harsher. I've been doing these cases for years and years ago someone could go to trial for molestation or rape and still get probation. Now it's all mandatory sentencing." However, he did note that "this [outcome] was the best result for everyone involved."
Waldman echoed that final statement of Balash's, stating that the mandatory jail time and felony probation was "accomplished without requiring either minor victim to testify in court and without the need for a jury trial." Continuing, Waldman said, "Justice was served."