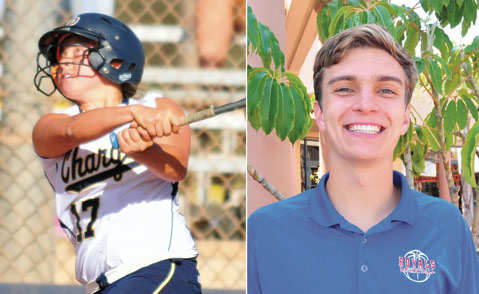 Kai Uyesaka of the Dos Pueblos softball team and San Marcos track athlete Tyson Miller delivered clutch performances for their respective teams to earn Athlete of the Week honors.
Uyesaka came up big in extra innings to lift the Chargers to an 8-4 win over Righetti in the first game of a doubleheader between the perennial powerhouse programs. With two outs and the score tied in the bottom of the eighth, Uyesaka stepped up and belted a grand slam for a walk-off victory. DP also won the second game.
Miller came up with some late heroics to help the San Marcos boys track & field team defeat crosstown rival Dos Pueblos in a Channel League dual meet. The meet came down to the last event — the 4×400 relay — and Miller anchored the Royals quartet to the victory. He also won the 200 and 400 races.