Arts & Entertainment
Catching Up with Lucinda Lane
The 'IndieBossaSwingTwang' Band Comes Together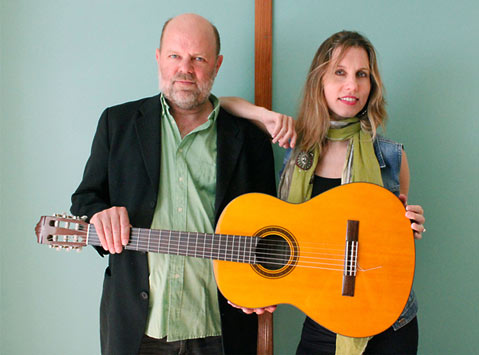 After a slow start, self-described "IndieBossaSwingTwang" band Lucinda Lane is finally coming together. Chiefly a collaboration between two Santa Barbarans — journalist and record label manager Joe Woodard and librarian and jazz singer Nicole Lvoff — the sometimes two piece, sometimes five piece have dealt with a variety of delays and distractions since their formation, but they are now in the process of recording their first album, Sunken Gardens. Their music is sophisticated, lounge-inspired, smooth, and sultry with a touch of sinister. I had an email exchange with Woodard about the band's origins, their ever-shifting lineup, and the perfect lazy afternoon.
What's the origin story for Lucinda Lane?
I could say that Lucinda Lane was a project born at the library. Nicole works there, by day, and so do I, in a way — the downtown library is one of many places I work in my writer day-gig mode. I had admired her singing, from her jazz chanteuse life in clubs and on a record, which she consulted me on.
Anyway, our musical orbits synced up when we talked about doing something while watching The Bird and the Bee. I presented her songs from my songbook (which has a few hundred titles by now), and Nicole most liked the bossa novas and the "pseudo-standards," songs written in the 32-bar form, Great American Songbook format, à la Cole Porter and Gershwin, minus the genius.
Fast forward — or slow forward — and we kept adding more songs to the band's book, including more and more of a country persuasion, and the cumbersome definition "brand" "IndieBossaSwingTwang" seemed too apt and/or silly to avoid. It's been a slow work in progress, but we're determined to play more gigs and work on our first record, hopefully to come out by the end of this year.
How's the new album coming?
The album, proper, is still in the embryonic stage. We have more than enough songs and have recorded some rough demo-style tracks of a few songs up at Tom Lackner's fabulous studio, the Tompound. Ideally, I see the album as a pretty and taste-treaty thing but also possibly weird combo of David Lynch-ian dimensions, indie lounge attitude, a touch of Julie London in there, and maybe Karen Carpenter, and her brother from another mother, John Carpenter. But all of that is open to negotiations, when we get deeper into the creative fracas.
You're a band of accomplished local musicians with projects of your own. What side of your soul does Lucinda Lane satisfy, compared to your other projects and outlets?
I have always loved the sound of a good singer, and to have them be willing to sing my sometimes strange songs is one of the great pleasure in life for me. With this project, I love the tight connection Nicole and I seem to have. I feel like we make a good partnership, and she is a good editor for some of songs that suit this vehicle — clothes that fit this particular musical wardrobe. She's happy to veto a song if it doesn't fit, and I say hip-hip-hooray for that.
It sounds like Lucinda Lane is an ever-evolving outfit. To what extent is keeping things unplanned/in process important for the band?
Keeping it flexible and unplanned is partly by necessity, due to clashing schedules, life getting in the way (and sometimes in the most blissful way — like when Nicole had her son Alexei, early last year). But it's more than that. Nicole and I are the nucleus of the band: She sings songs; I fling songs at her and play guitar. We see it as an expanding and malleable operation. Our drummer Tom Lackner is pretty much a third Beatle, but he's on the road with Jeff Bridges this week, as is pedal steel player Bill Flores, who we also love to play with. Bassists Jim Connolly and Steve Nelson have also played with us, and I think the guest list will just get longer and longer. I'm still looking for a good accordionist and trombonist to join the outer ranks of the Lane.
You guys have a breezy, relaxed sound and have titled the release Sunken Gardens. Are you going for a specifically Santa Barbara vibe? And if not, what inspires it?
That's an interesting question. The half truth is that the title Sunken Gardens came about because we have done a lot of rehearsing and hashing out of songs in the Courthouse Sunken Garden — and I can definitely say that Santa Barbara landmark has put its mark on us. But I would say there are worms and sneaky ideas lurking beneath the blithe surface of the music (the Lynch factor enters in again).
For that reason, the album title Sunken Gardens (not to be confused with Donald Fagen's Sunken Condos) seems to capture the duality of a beautiful but also underground thing. I love the idea of pretty music with subversive activities going on, through "wrong" chord changes, shameless wordplay, and irony tactics. If you can make music that is both sad and happy, mild-mannered and mischievous, to me, that's entertainment!
Is the name Lucinda Lane inspired by the local street?
You caught us. Our first band name was Starship Prime, but it turned out there were many band names, album titles, and whatnot that beat us to it. Nicole's multi-talented husband Dana Welch — also our photographer, designer, facilitator, and all-around partner in the operation — came up with Lucinda Lane, the street that Nicole actually grew up on. We keep getting comments from people who have lived, presently live, or have infamously partied/hot-tubbed on that street. We oughta make a concept album about the street. We hope to play a house concert on the Lane at some point. Any takers?
What's new with Household Ink?
Household Ink Records started out in 1987 as the home humble label for our band Headless Household, and it kind of shocks me that it's still viable and growing, with 40 titles on the label at this point. We go up and down in terms of activity and putting things out, partly because projects get stalled or lose their way on the creative highway. Needless to say, there is no driving financial motivator in this indie label. It's a love thing. And an obsession thing.
Suddenly, we have some interesting things happening again. In a few weeks, Headless Household releases its ninth album in 31 years together, called Balladismo, which took a year and a half to finish. At the same time, we're putting out the album Moncaup by our first European artist, the Swiss saxist Nicole Johanngten. She's a really interesting musician and wonderful to work with. It was also exciting when Nate Birkey, who lives in NYC but hailed from Santa Barbara for many years and returns here a few times a year, got a thumbs-up review in the mighty jazz journal Down Beat in April for his beautiful album Just a Closer Walk.
And drummer/engineer/coconspirator Tom Lackner and I are avidly working on finishing another album by our actual rock 'n' roll band, flapping.
Describe your perfect lazy afternoon.
Watching a movie on the big screen, either a good one or a "so bad it's good" one, and also writing a song that comes easily from the gods instead of with the usual pain and suffering and second-guessing … and then have Nicole like it enough to add it to our growing pile of Lucinda ditties. Oh, did you say "lazy?"