Theater
In the Forest of Detroit
An African Idol in Motown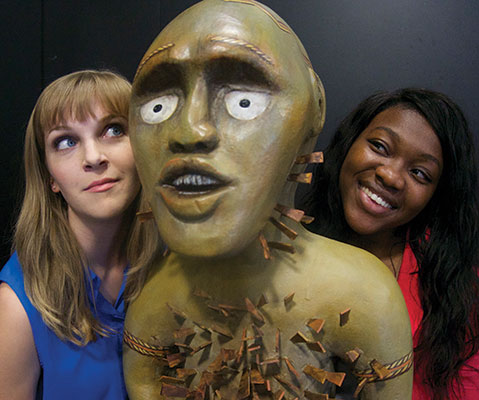 Ellen Anderson's two favorite subjects come together in her new play opening this weekend. There's Detroit, her hometown and an ongoing obsession, and then there's what she describes as "love crazy women of all shapes and sizes." In the Forest of Detroit follows two docents from Detroit's distinguished Institute of Arts who wind up in an abandoned house with a valuable African statue. When the African god represented by the idol comes alive in the form of a woman, things quickly get interesting. As Anderson put it, "mayhem ensues, and terrible trouble, but it's magical."
Craziness, yes, but then that is all part of the plan for Dramatic Women, the theater collective responsible for producing this and many other plays by area playwrights. The group has been promoting women's involvement in all aspects of theater and bringing original work by area writers to the stage in Santa Barbara since 1993. The not-so-secret strength of Dramatic Women is particularly evident in Anderson's work, as she consistently manages to write from a fully engaged feminist perspective while still creating stories with universal appeal. In the Forest of Detroit, which opens on May 15 at Center Stage and runs through Saturday, May 23, will benefit from an excellent cast that includes Leslie Gangl Howe, Lisa Gates, Wendy Sims-Moten, Mickey Flacks, Terry Li, Caroline DeLoreto, Tyler X. Koontz, Erica Flor, and Tonea Lolin.
As in Anderson's other Detroit play, 2010's Bedtime in Detroit, the subject is, according to the author, "white privilege all over again" but from the perspective of "middle-aged women who are trying to do better." Anderson's wry tone belies her startlingly undimmed passion for humanity and for the theater. Her plays may take a similarly irreverent approach to character and situation, but they always tackle tough issues without flinching or preaching.
The great benefit of having resources such as Dramatic Women and Ellen K. Anderson in our theater community becomes especially evident when disparate talents come together, as they have for this production. In addition to all the great actors who are on board with In the Forest of Detroit, there will also be music in the form of a set of mostly original, interstitial songs by the Los Angeles-based musical duo Mommy Tonk. Mommy Tonk, made up of Stacie Burrows and Shannon Noel, creates comedy out of the formula "Two moms. One guitar. Cursing in perfect harmony." Noel was once a student of Anderson's, and they have reconnected for this project in a way that will leave audiences laughing about everything from husbands to Target. The play-with-music format, rather than the traditional musical in which the songs are sung in character, suits Anderson's magical realism perfectly, and In the Forest of Detroit promises to be her most entertaining vision of Motown yet.
4∙1∙1
In the Forest of Detroit opens Friday, May 15, and plays through Saturday, May 23, at Center Stage Theater. For tickets and information, see centerstagetheater.org or call 963-0408.