News
Hand Crew On Call Year-Round
A Look at County Fire's Hardworking Wildland Team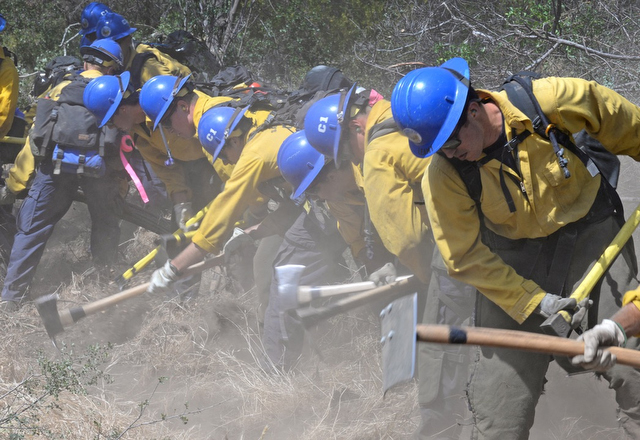 Despite the welcome rain that drizzled this week, the four-year-old drought is still deep in the throes of its anti-rain tantrum. This new parched reality has put firefighters throughout Santa Barbara County on notice and made "fire season" a year-round phrase. Working to reduce the risks that all this dryness poses to the area's more remote spaces is County Fire's hand crew, a 29-person team with deep roots in the department's history.
More than 40 years ago, the department's first hand crew, sometimes referred to as a hotshot crew, was born. It carried on until 1991 when budgetary issues forced its shutdown. Fourteen years later, a string of outside agencies — including the Mission Canyon Association and the Wildland Residents Association — successfully encouraged a reboot of the crew, built up again into two squads with help from a former leader of the Los Padres Hotshots.
The county's crew cleared brush, built fuel breaks, and lent hands to rescues for the next six years until 2011, when budget issues again spelled doom. But 2014 provided another resurgence, with the creation of two 13-person squads.
With "high" fire season just beginning — it now lasts from April to December — the new crew has been busy. On a recent Wednesday afternoon near Cold Spring Bridge, both squads — whose oldest member is 36, the youngest 19 — were training together on the one day per week that their schedules overlap.
Each squad works four 10-hour shifts a week and is headquartered at Lake Cachuma. First on their list that day was clearing dry grass off Stagecoach Road. Second on their list was handline training, using tools with names like McLeod (a hoe-rake hybrid), Pulaski (an amped-up ax), and Monkey Paw (a breed of rake).
Handline training, said County Fire spokesperson Captain Dave Zaniboni, is the crew's "bread and butter," and the department's crew is crucial to the county's protection, given that the Los Padres Hotshots stationed on Paradise Road are often called to work in other states. (Last week, the Carpinteria-Summerland Fire District held a wildland training with firefighters from the tri-counties and the Forest Service, using drones to record the action.)
In between trainings on that recent Wednesday, crew leaders Brent Manfred and Justin Dixon recalled vying to join the team by, among other tasks, donning a 45-pound pack and trekking three miles in less than 45 minutes. They remembered fighting all the major fires in recent years — from Perkins and Zaca to Gap, Jesusita, and Tea — and some of the dirt-sleeping and military ration-scarfing involved. It's a lot of work, they said, but worth it.