Living
Handmade Asian Art on Ortega Street
Chinese Newlyweds Jun Shi and Yitong Zhao Sell Embroidery, Paintings, Jewelry, and More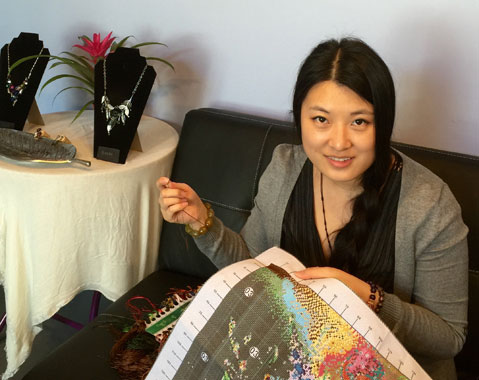 Newlyweds Jun Shi and Yitong Zhao don't run your typical Santa Barbara business. Tucked in the corner of Ortega and Anacapa is Miss T, the couple's Asian-inspired jewelry store that sells handmade embroidery, paintings, crystals, and gemstone jewelry.
Combining Shi's love of painting and designing with Zhao's skill of embroidery, Miss T opened shop in January, four years after the couple left homeland China. Together they offer an alternative to the usual shopping options of State Street.
"We try to select all the things popular in Asia, and we try to bring the traditional things, the real things," Shi said. "We want to bring something new; we don't want to follow. Most of the stuff — 70 or 80 percent — only we have it."
Display tables along the edges and middle of the floor have countless assortments of necklaces, bracelets, earrings, and rings laid out, ranging in style, size, color, and price. Hanging from the blue walls inside the store are Shi's paintings and Zhao's needlepoint. Items vary in price. Some jewelry sells for as low as $10, with Zhao's embroidery going for hundreds.
Done in the same style as antique embroidery, Zhao's needlepoint work often takes months for her to complete. One embroidery design replicates a scenic Asian village surrounded by waterfalls, with Zhao's needlepoint capturing every title of each home in detail, and drops of water going over the edge of cliffs are seen in plain sight.
Zhao was taught to embroider by her mother, and Shi learned the skill of handmade jewelry from his uncle. Shi handcrafts all the gemstone jewelry found in his store. He begins the process of making a pendant first by measuring crystal string and methodically aligning gemstones and beads into the string, eyeing it so that colors correspond on each side.
"I have to design first, like what kind of stone I use, what kind of color I use, and it has to match," Shi said. "I started making gemstone jewelry a year and a half ago. I like to design things, but I never designed jewelry. [Zhao] said, 'Why don't you design gemstone jewelry?' and then I just made it."
Shi orders items in bulk from China, Japan, and South Korea, but he estimates that 60 percent of what is sold in the store is handmade.
Phone cases, headbands, and ceramic jewelry are also sold. Handbags with embroidery patterns that twist and intertwine with one another display elaborate color patterns native to Asian culture, and are among the most popular embroidery sold by the couple.
Miss T takes its name from Yitong's nicknames "Tingting" and "Tong," and also for Shi's natural affection for her. The two have known each other since they were 7 years old, growing up in Shenyang. They lost touch with one another in high school, and, in 2006, Shi left China to study business administration and took graphic design courses at Santa Barbara City College. Yitong also left China to pursue her education — and her boyfriend at the time — in Denmark.
Coincidently, the two returned to China five years later and reunited. Three months was all it took for Shi to charm Zhao into following him to Santa Barbara. The couple tied the knot in April.
Although the couple just started their business, they emphasize delivering quality at an affordable price.
"We just want to let people know our stuff is not super expensive and that we have good quality stuff," Shi said. "That's the reason we do this, and we want to give something new to Santa Barbara."
See misstsb.com, call (805) 564-8885, or visit the store at 35 East Ortega Street.