Bottles & Barrels
Toasting 40 Years of Brander Vineyard
Santa Ynez Valley's Sauvignon Blanc Stalwart Fred Brander Plants for Future on Strengths of the Past
One cloudy morning earlier this month, Fred Brander walked through his Los Olivos vineyard alongside Highway 154 while his crew was planting a new batch of sauvignon blanc vines. As the Buenos Aires-born vintner spoke to the laborers in brisk but melodious Spanish, advising how best to mound the earth around each vine, he reflected on doing the same exact thing exactly 40 years ago, when first planting his family-owned vineyard in May of 1975.
Much is different about the process. In one hand, Brander shows me the modern fluorescent green vine tag, whose various numbered and lettered codes indicate which of the specialized rootstocks and clones he's selected for these vines. Then the Santa Barbara-raised winemaker — whose parents moved to town in 1962 from Argentina, where his Swedish grandparents emigrated a century ago — pulls from his pocket an orange tag from a cabernet sauvignon vine he planted back in '75. "Cabernet Sauvignon #1 Jumbo," he reads aloud with a laugh. "The only clone you could buy back then was #1."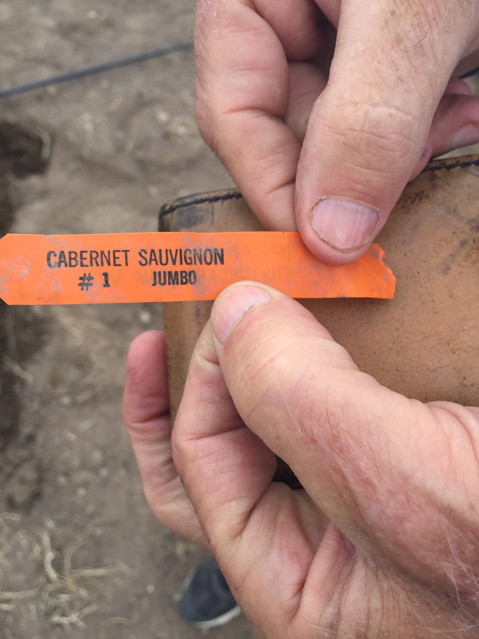 But much is quite the same at the Brander Vineyard, where about 40 acres are planted two-thirds in sauvignon blanc and one-third in cabernet sauvignon and cabernet franc. That was the basic ratio Brander bet on in the beginning, after he convinced his parents to buy the property around the time he graduated from UC Davis with a master's degree in food science with an enology emphasis. He'd been fascinated with fermentation ever since graduating from a chemistry set to a home winemaking kit while still in high school at Laguna Blanca, and pursued that interest by studying chemistry at Harvey Mudd College. After spending time in France — where his grandfather Fritz once studied wine before moving to Argentina — Brander saw the rolling hills of Los Olivos, with their sand, gravel, and clay soils, as reminiscent of Bordeaux, where sauv blanc and both cabs thrive.
In a world then dominated by cabernet sauvignon and chardonnay, Brander's emphasis on sauvignon blanc was a curious choice. And with about 13,000 of his 16,000 annual cases still dominated by the white varietal, it remains a head-scratcher to many today, as well, when many wineries simply make a little bit of sauv blanc to offer another white wine option. In fact, for a producer his size, Brander probably puts more effort into sauvignon blanc than anyone else in California, offering 11 different bottlings each year, including five vineyard designates. The workhorse is the 11,000 cases of his Santa Ynez Valley sauv blanc blend, which continues to fly off the shelves, particularly at restaurants. "We are in a unique position," said Brander. "The potential for sauvignon blanc in California is huge, but it seems like there is not a lot of effort."
His efforts at quality started early on, when he made his first wines in old dairy equipment at the now defunct Santa Ynez Valley Winery (where Kalyra is today). "It was modest," he recalled, "but it worked." Brander decided to barrel ferment the usually tank fermented sauv blanc — "it was kind of a novel thing," he admitted — and won Santa Barbara County's first gold medal for wine at the L.A. County Fair in 1977. "It was the right time in the right place doing the right thing," said Brander, who was quickly picked up by a major national distributor and boosted to 5,000 cases by 1982. "I went from selling locally to being in 34 states overnight," he explained.
That's also changed. "Today, we might sell in eight states," said Brander while walking back toward his estate winery, which he built off of Roblar Road in 1979. "It's so competitive. I don't like to travel when I spend more on hotel rooms than I sell in wine." Instead, Brander travels for pleasure and inspiration, most recently to South Africa, where he enjoyed the most memorable wine tastings of his life. Such unique memories are what he's trying to bring to the Brander Vineyard, with plans to open a Mexican folk art museum this summer and hopes for even more visitor-serving options in the years to come.
"Just a taste of wine is such a fleeting moment and a fleeting memory," he said. "My vision is to make more than good wine. That just takes money, and there is so much money around. You have to go to the next level and try to separate from the pack by creating the experience. You have to give the consumer an experience that they can remember."
Visit the Brander Vineyard at 2401 North Refugio Rd. Call (805) 688-2455 or see brander.com.
Los Olivos AVA Update
Fred Brander's decade-long effort to establish a Los Olivos AVA (or American Viticultural Area), which would encompass most land between the Happy Canyon and Ballard Canyon appellations, was greeted with 76 public comments, all positive. "No other proposed AVA has received that many all-positive comments in 10 years," said Brander. Though the federal government, which approves the AVAs, never predicts when such a designation will be made, the complete lack of opposition suggests it will happen as proposed and soon, thereby carving out a new 23,000-acre appellation in the Santa Ynez Valley — and putting another feather in Brander's cap.