Starshine
Crude Awakening: When the $#!% Hits the Sand
When an Oil Spill Disaster Messes with Our Columnist's Weekly Shoreline Sunset
Living in paradise, one can get awfully smug. My friends and I have a ritual of meeting at sunset on the beach about once a month. Plopped in beach chairs, toes in the sand, eyes on the horizon, and a syrah on our lips, we toast to our extraordinary good fortune. "Aren't we lucky?" we gasp as dolphins and even whales dance past in the surf.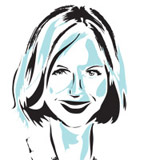 From our unspoiled, cliff-edged beaches, it's easy to see why Oprah lives here: Where else would she live?! It's easy to understand how we earned our highbrow nicknames: The American Riviera and the Galapagos of the North. And it's usually quite easy to forget that at any given moment, countless gallons of toxic, black sludge are whooshing silently through pipelines beneath our shores.
We gaze out at the islands, willfully ignoring the unsightly offshore platforms that crowd our horizon like industrial pirate ships. "Isn't it lovely how they twinkle at night? Just magical …"
We boast that our shimmering Shangri-La is where Earth Day was born, dismissing the reason it was born: because of a 1969 oil spill that killed untold marine animals and contaminated shorelines from Pismo to Mexico.
Now 46 years later, the noxious black sludge laps at our feet and onto our beaches yet again after an underground pipeline burst near Refugio Beach. One hundred thousand gallons of crude oil spewed down a storm drain, at least 20,000 of it into our otherwise pristine little piece of the Pacific.
And now our Eden reeks. Campers who'd come from far-flung places to enjoy a holiday weekend in our happy little haven were sent packing, and likely hacking. The rich marine life that earned us that proud Galapagos comparison — pelicans, sea lions, octopus, crabs, fish — are washing up dead on our sand, smothered in gick.
Of course, there's more to come. Scientists can only guess at the impact nine square miles of oil slick will have on the sea's ecosystems, from blocking the light that kelp beds need to blanketing the ocean floor in tar. It's like watching a massacre in slow motion and being powerless to stop it.
Needless to say, there's no beach-chair lounging, no good-fortune toasting among my pals. There's only a crude awakening, a reluctant and perhaps overdue coming-to-terms with the fact that our beautiful hometown and this ruinous ebony ooze are utterly — and occasionally disastrously — enmeshed. That the world's first offshore oil drilling took place here. That petroleum reservoirs beneath the Santa Barbara Channel have been attracting oil companies for over a century. And that locals have been protesting their presence all along — but that it didn't stop the biggest oil pipeline in our county, and the only one without an automatic shutoff valve, from raining on our aren't-we-lucky parade.
I'm in the anger stage of my grief, cursing the Texas company who "did this to us," because who doesn't love a good scapegoat? But when all the evidence is examined, maybe we're all complicit — for having been complacent.
One Indy commenter points out that our collective reliance on gas-powered transportation and plastic (including the mock pipeline prop that protesters hauled down State Street last week) is as much to blame as anything, or anyone, else.
In the weeks to come, we'll look to far more capable minds than mine to learn how to avoid such disasters in the future. What can we do beyond mucking beaches and, you know, driving electric cars? How can we be more vigilant with our votes, our donation dollars, and even the products we buy? How do we keep Santa Barbara's ugly underbelly, well, under?
Because one thing has become clear, ironically, in the opaqueness of our insidious sludge: No one — not even Oprah — gets to take beauty for granted.
Someday I want to sit blissed-out on my beach again with my toes in the sand. But you'll never again find my head in there.
Starshine Roshell is the author of Broad Assumptions.