News
Rodger Lawsuit Winds Through Court
Wrongful Death Suit Filed on Behalf of Three Victims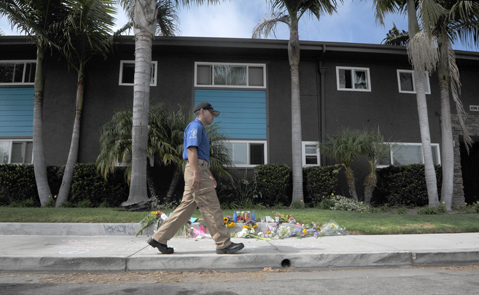 As the Isla Vista community commemorated the six UCSB students who were killed by Elliot Rodger one year ago, a civil rights lawsuit filed against the Sheriff's department, Capri Apartments, and the property management company continues to wind its way through federal court. Filed on behalf of the families of the three victims who were stabbed to death — his roommates David Wang and James Hong and their friend George Chen — the wrongful death lawsuit contends the defendants ignored signs that Rodger was dangerous. Last month, the defendants denied those allegations.
The lawsuit alleges Rodger's troubles at Capri Apartment stem back to a short time after he moved to Isla Vista and enrolled in classes at Santa Barbara City College during the summer of 2011. That fall, the lawsuit alleges, Rodger was assigned two new Hispanic roommates who were the subjects of racial slurs he made in his manifesto that was widely distributed online.
After the two roommates moved out, Rodger was soon paired with a new roommate with whom he lived for several months, according to the lawsuit. During that time, hostility grew considerably between the two college students, said plaintiffs attorney Patrick McNicholas, who is based in Los Angeles. That roommate sent a letter to the Capri's management, asking to be separated from Rodger. He wrote that Rodger was rude on several occasions and had "huge psychological issues." He added that Rodger was a "ticking time bomb waiting to explode," adding, "we are at the point where I fear for my safety."
But the managers did nothing, McNicholas contended, and the roommate moved out at the end of the academic term. In 2013, Hong and Wang moved in with Rodger. McNicholas contended that the decedents would never have been placed with Rodger had Capri Apartments personnel "acted reasonably."
Representing Capri Apartments, Los Angeles-based attorney Eugene Egan said he could not comment on pending litigation. The apartment building on Seville Road in Isla Vista was sold in fall 2014, according to County Assessor records.
Unlike most complexes in Isla Vista, Capri Apartments pairs residents who do not know each other to live in the same unit. McNicholas argues that because Capri is immediately adjacent to the campus, the property managers have an obligation to do a background check on the residents. That check, he argued, should include a social media check. "It's free, it's easy, and it's fast," he said.
As for the allegations against the Sheriff's department, deputies had a number of interactions with Rodger in the several months before his rampage. Sheriff's deputies missed an opportunity, the lawsuit claims, when they were called to Rodger's apartment to do a welfare check and failed to search his room that had been filled with weapons.
According to Sheriff's spokesperson Kelly Hoover, the department implemented a policy last October to have a weapons check done via computer database "whenever possible." That practice is now encouraged for law enforcement agencies, per a new law authored by State Senator Hannah-Beth Jackson that went on the books at the beginning of this year.
In March, the Sheriff's Office issued this statement about the suit: "The Sheriff's Office cannot comment on a matter of pending litigation, and anything we might say in response would be insufficient when measured against the grief suffered by the families of those killed so tragically on May 23, 2014. Nevertheless, we continue to keep them in our thoughts and prayers, and to extend our deepest sympathies to them."
The matter is still in early stages of litigation, and the parties will ultimately end up back in federal court.