Outdoors
15 Years of Circumnavigating the Channel Islands
Longtime Kayaker Remembers Favorite Experiences from Paddling the Archipelago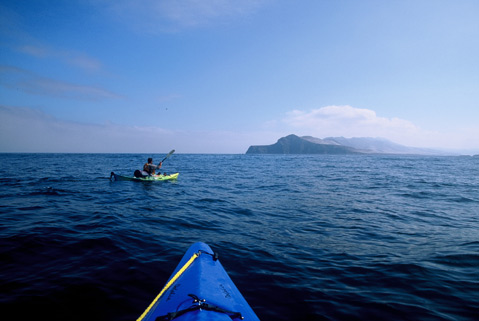 My weather radio left me wishing I was somewhere else: The chilly, eye-watering northwest winds were whipping at 45 miles per hour, with the occasional 60 mph gust, and the swell was seven to 10 feet at rapid 10-second intervals. The front side of Santa Rosa Island isn't always the best place to be in the spring, but after multiple circumnavigations of the Channel Islands National Park on my kayak over the past 15 years, I always anticipate the wind kicking up at some point.
It's an arduous journey worth enduring because I'm guaranteed new experiences each time, guaranteed to see things I never have before. Such endless discoveries may be difficult to imagine with the megalopolis of Los Angeles just 60 miles to the east, but paddling around the volcanic archipelago is like rediscovering a California of old, like seeing a sliver of what this region was really like 300 years ago.
Skunked
During my first circumnavigation of the islands in 1999, I left Cuyler Harbor on San Miguel Island, but high seas made landing on the northern beaches of Santa Rosa impossible. That forced me to paddle further east along the island, all the way to Water Canyon inside Bechers Bay, much farther than planned. With no place to land to stretch stiff legs along the way, I tied up to the kelp off the western cape of Rosa, lifted myself out of my kayak, and let the blood work its way back down to my asleep feet.
Carrington Point loomed far on the horizon. The daunting, wave-battered headland was congested with platoons of dive-bombing seabirds and burly bull sea lions feeding just offshore. When I rounded its towering face, I hugged the craggy cliff-line and was gratefully, finally out of the wind.
After landing and eating in Water Canyon's empty campground, I wasted no time falling fast asleep atop a picnic table. I awoke suddenly after midnight to thumping on the bench below me. Flipping on my headlamp, I rolled over and came nose-to-snout with an island spotted skunk. One of the few endemic mammals on the chain, the mostly nocturnal, football-sized creatures aren't afraid of humans. This one was particularly inquisitive, until it hopped off the bench to rejoin its two kits waiting patiently in the dark. They were the only disturbance that night in Water Canyon, where a freshwater stream trickled out toward wind-sculpted sand dunes and my salt-encrusted kayak.
Tent Mates
During another trip along the more remote backside of Santa Rosa Island, I pitched my tent on a deserted beach just before dark. That night, with the full moon beaming into my tent, I awoke to the sense of sleeping in a sardine can. Lying on my back, I couldn't roll to either side. Suddenly I realized that three northern elephant seal pups were snuggled up next to me, their 300-pound bodies folding my tent inward, though not quite snapping the poles, thankfully.
It was so nice and cozy that there was no need for a sleeping bag. The seals' odd cacophony of bodily noises ​— ​snorting, farting, yelping, and so forth ​— ​eventually subsided, but one started pressing its face so hard into the tent that it was nearly head-butting me. When I gently pushed it away, it became playful, so I ignored it until all four of us fell asleep.
Around sunrise, when my tent had returned to its proper shape and I could move freely, I decided to unzip the front flap, only to find a glassy-eyed pup staring back at me. So I exited from the other side of the tent, where the other pups were frolicking in the surf zone like kids in the shallow end of a pool.
Potato Patch
Located in the gap between Santa Rosa and Santa Cruz islands, the Potato Patch can be confounding on a kayak. There've been about 10 times when I've found it perfectly calm and glassy, with gray whales sunbathing on the ocean's surface. But big northwest winds make it downright frightening, and I've crossed it a few times when it resembled a scene out of The Perfect Storm.
Currents from as far away as Alaska and Mexico collide here, creating roiling underwater eddies that unleash amazing aberrations of nature. The powerful northwest currents constantly expand just west of Fraser Point, forcing open-ocean waves upward and sporadically sending sudden, towering waves into the sky whenever velocity gets ratcheted up.
The last time I paddled through, gale-force winds were in full effect. It was a wild ride, with white-capped waves repeatedly cresting on top of me and sneaker swells occasionally launching me straight out of my kayak and into the water, where I swam after my gear. My neck became sore from constantly looking over my left shoulder. I didn't feel any relief until I was six miles east of the west end of Santa Cruz, nestled in a hidden cove to refuel before paddling on.
Experiences like that are good reminders that Channel Islands kayaking shouldn't be taken lightly. But for those up to the challenge, it's a window into the real wilderness.