News
Refugio Oil Spill Cleanup Costs Top $64 Million
Plains Will Foot the Bill; Feds Defend Initial Response Efforts
Twenty-four days after the Refugio Oil Spill, fewer boats can be seen from the shoreline, and skimming operations have stopped. The size of the cleanup crew has decreased to about 1,000 personnel on the ground, with about 100 people occupying the Unified Command post. As of Thursday, 81 percent of the beaches have met cleaning goals. "The progress we've made is phenomenal," said U.S. Coast Guard Captain Jennifer Williams.
Plains All American Pipeline, the company that operates the pipe that broke on May 19, is so far on the hook for $64 million in cleanup costs. On Wednesday, Plains spokesperson Meredith Matthews told The Santa Barbara Independent company expenses have hovered around $3 million per day, "depending where you are in the ramp-up of the spill response." Matthews said that in the days immediately following the spill, the daily expenses were a little lower. And, she explained, "The number has started to drop as cleanup is advancing and fewer resources are needed."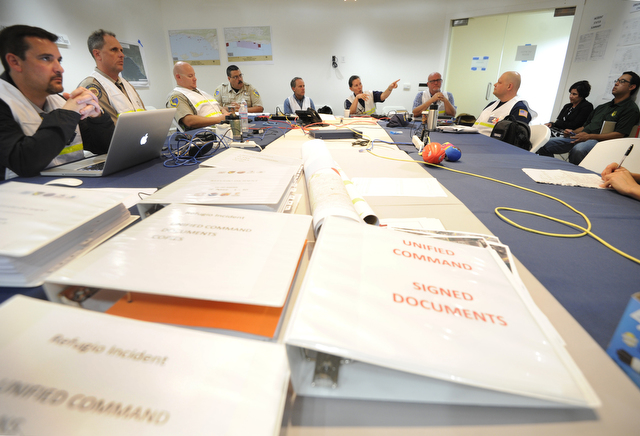 Questions about the promptness of the official response have been lobbed at the multilayered Unified Command. Eric Hjelstrom, State Park superintendent for the Santa Barbara sector, pointedly addressed this question on Thursday by asserting that a huge amount of planning and operation goes into spill-response efforts. Hjelstrom, who has worked on spill drills for 15 years, said there's a "logistical thing that has to happen." Seeing the visitors out on the beaches with buckets and shovels was disconcerting, he said, calling it "a dangerous thing to do."
When asked about potential public misconceptions around the spill aftermath, Williams said she thought the response went quite well. "[We] ramped up as quick as we could," she said. "[It's] always difficult." Williams went on to say the procedure is not going to go exactly according to plan. "That's why we have this system in place," she said.
Plains representative Pat Hodgins added that everyone always wants the response to be faster, but that the safety of the responders is paramount. "We want to do the right thing," he said, adding he is proud of the entire Unified Command effort. "Santa Barbara is lucky with all of the things they have," he said of the local, state, and federal experts. "The clean beach will speak for itself."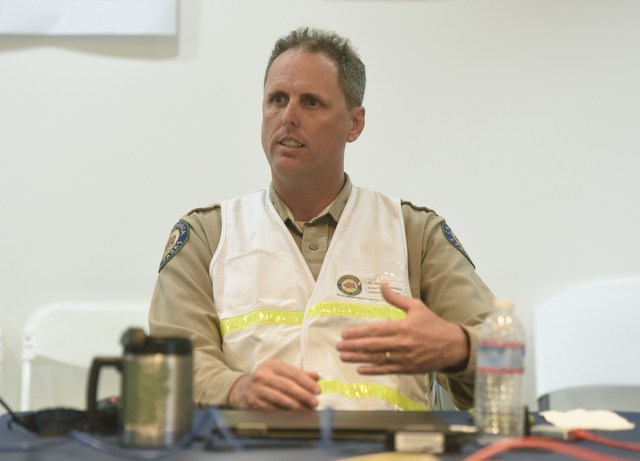 As of Thursday, 68 birds and 47 mammals have been found dead, and 162 birds and 87 mammals have been found injured. A Department of Fish and Wildlife spokesperson said it's unclear if all of these animals were impacted by the spill since it's not uncommon to find wildlife die-off this time of year. On Friday, pelicans with a clean bill of health will be released at Goleta Beach.
From the get-go, environmentalists were quick to ask whether or not dispersants would be used. Williams said Thursday that dispersants "were never a real possibility for this area."
Moving forward, Williams noted that the tidal cycle poses some constraints, shrinking the window for crews to get out to those beaches. "When water comes in, we can't do what we need to do," she said.