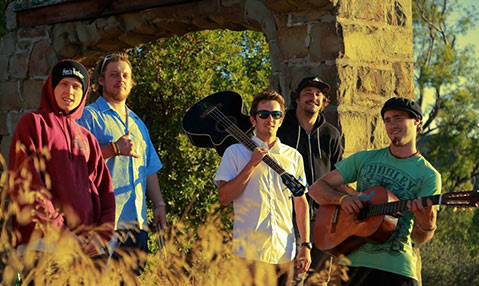 REGGAE RISING: Reggae-punk-hip-hop-fusion band King Zero plays Thursday, June 18, at SOhO Restaurant & Muisc Club with Fayuca, Ease Up, and True Press, but don't call them a white-boy reggae band. "Genre, genre, genre — I just play music," said band mastermind and rhythm guitarist Keith Cain. "Styles segregate people," agreed vocalist and guitarist Angelo Caprio. "It's about personal expression — taking from what you love, using what's useful, and just having fun with it."
The band originated as something of a fusion, when Cain "conned" two singer/songwriters, Caprio and vocalist Ben Collinson, into meeting with him individually under the guise of having other members there — they arrived to find Cain with his box drum, shaker, and sock.
Though originally a scheme to net the usual spoils of young live music (i.e., girls), the band quickly evolved into a more meaningful outlet for the members' collective passions and pains. King Zero's shows, in the words of Cain, are about "raw heart passion," about "being moved by someone onstage being fully who they are, and exploding that inner passion that we can all connect to."
"It's how we get connected into our deeper selves — without that, we wouldn't be living a balanced life," added bassist Kevin Long.
Their channeled raw emotion can take all manner of forms, as the happily spontaneous band has played all over town, from the echo-y archways of Metro 4 movie theater to the beaches of Goleta. They're also open to inviting others to play onstage with them, whether it's Scorpion joining in on drums or "that old guy from Sandbar" laying down a verse. "Real magic happens when it's spontaneous," Caprio said.
"Computers are popular forms of making music now, but there's nothing like the human element, live art performed in the flesh," said Long.
They aren't so much inspired by roots reggae as they are the Californian style of reggae-rock-rap fusion, championed by college-dorm-room patron saints Sublime, or longtime hometown players Cornerstone and One Two Tree, to whom the King Zero guys feel they owe much of their success. "The first time I saw One Two Tree, I was 12. Reggae's always been here," said Collinson, who expressed gratitude toward the Santa Barbara band.
See the up-and-coming, very lively young band at SOhO on Friday, June 19, at the Live Oak Music Festival, where they play with reggae giants Easy All Stars and many others, and see why this town continues to birth its own brand of irie feeling.
SOME RISE, SOME SET: The Hard To Find Showspace is making a triumphant return with a Father's Day lineup featuring the off-and-on venue's very own Josh and Tim Eymann playing as Easter Teeth, alongside Illicitor, The Quitters, Smoke Wizard, and Headstomp. Back in the day, The Hard to Find, tucked discreetly away in Jubilee Ministries church, was a true godsend for us high schoolers, being the only all-ages venue in the area after the death of The Living Room. Rejoice, rejoice — The Hard to Find is risen, indeed.
Elsewhere in Goleta, word on the street is that the city has imposed an 8 p.m. curfew on The Goodland Hotel for having too much fun in its sleepy neighborhood. The ever-artful establishment has re-engineered their live-music lineup, now offering the Sundown music series. Though this may mean no more moonlit poolside concerts, with the longer daylight hours, this may be a blessing in disguise.