Briefs
Brush Fire Breaks Out in Lompoc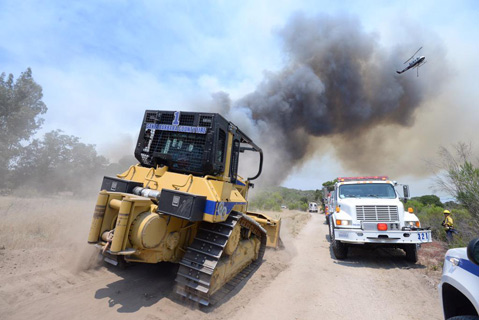 [UPDATE, Wednesday, 9:30 a.m.]: As of Wednesday morning, the Mesa Fire is 95 percent contained, and is expected to be fully controlled by 6 p.m. this evening.
[UPDATE, Tuesday, 7:30 a.m.]: As of 7 a.m. Tuesday, the Mesa Fire had grown to 320 acres and is 75 percent contained. According to County Fire, all mandatory evacuations have been lifted within the Cebada Canyon area.
Investigators are searching for two people, likely youths, who were believed to be hiking behind the nearby water treatment plant when the fire broke out. Anyone with information is asked to call 686-5074.
[UPDATE, Monday, 5:42 p.m.]: The fire has grown to 300 acres and is 55 percent contained, according to fire officials. About 200 firefighters are on scene. Air tankers have been released, but helicopters are still flying overhead. Winds in the area are traveling northwest, but the fire is not currently growing, said county fire spokesperson Dave Zaniboni. "They are just trying to put out what is there," he said, adding no structures have been lost and no animals are known to be injured.
[UPDATE, 4:26 p.m.]: An evacuation warning has been issued for the Mission Hills area, according to the Sheriff's Office. Mandatory evacuations have been issued for Cebada Canyon and Gypsy Canyon. Sheriff's deputies, Search and Rescue volunteers, California Highway Patrol officers, and California State Parks personnel are assisting with notifications.
Evacuation centers for animals are also being set up. People with small pets can take them to the Lompoc Animal Shelter at 1501 West Central. For large animal assistance, owners can call the Animal Services hotline at 681-4332, and a large animal evacuation site has been set up at the Elks Rodeo Grounds in Santa Maria.
[UPDATE, 3:43 p.m.]: County Fire helicopter crews are reporting that the fire has reached approximately 200 hundred acres, but spokesperson Dave Zaniboni said an exact figure could not be confirmed. He added the flames are not traveling very fast right at the moment, and pilots are making good progress with water drops. About 1,200 people have been evacuated, he said. An evacuation center is being set up at the Trinity Church of the Nazarene at 500 East North Avenue.
[ORIGINAL REPORT]:More than a dozen Santa Barbara County fire engines are responding to a vegetation fire estimated to be 50 acres and growing in the Burton Mesa area just behind the La Purisma Mission in Lompoc. A number of houses in Cebada Canyon are being evacuated. County Fire spokesperson Dave Zaniboni is on his way to the scene and called the situation a "major fire potential." AccuWeather says winds in the area are currently 15 miles per hour.
This is a breaking news story. Check back for updates.