Arts & Entertainment
Aerosmith Comes to the Bowl
Music Legends Rock Santa Barbarans Tuesday, July 7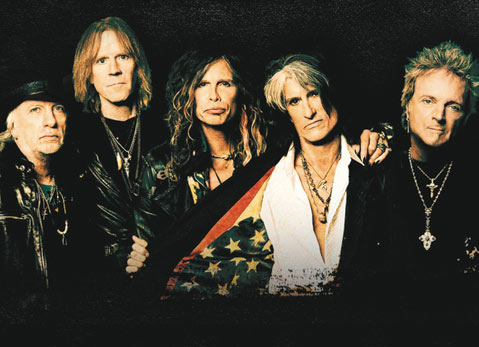 This band needs no introduction: The 1970s classic rock legend Aerosmith, which will rock the Bowl Tuesday, July 7, at 6:30 p.m., promises to deliver a set of the band's career-defining hits like "Dream On," "Walk This Way," and "Don't Wanna Miss a Thing." In anticipation of their upcoming show, I spoke with rhythm guitarist Brad Whitford about the group's multiplatinum success, the "magic," and pajamas.
When did you first make the commitment to music? That's a very interesting question. I had a couple moments when I started–I was probably around the age of 12 or 13. Some of the early British Invasion had started to happen, which was very intriguing. But I think it was the first time somebody actually paid me to play guitar that I made the commitment. I had this feeling, and I realized then that I could actually make money doing what I loved to do. That was a pivotal moment for me. I knew that I loved it. It was a door that I felt had opened for me from my psyche–it was a part of who I was–and to have someone actually pay me for it was incredible.
That's the dream, to take what you love and make a living from it. Why do you think you and your band have succeeded in a field where so many others have failed? That's one of those mysteries. I think it's just about the right people lining up. It seemed so random. I know I grew up with enormously talented people. So much of our success has been about all of us [in the band] making our own choices and everything lining up the way it was meant to. Aerosmith was one of those things where all the right pieces fell into place. I never knew it would result in a life-long career.
What rock bands you think people should be watching right now. Who do you think will still be relevant in five or 10 years? One of my favorite bands right now is Rival Sons. They've already been at it for some time, but people are still discovering them. I think they're gonna stick around–they have the magic.
How would you define that magic? It's very clear in certain artists. I don't know if you saw the documentary on Kurt Cobain that was just released, but he's a great example of someone who has the "magic." He was a genius. Some people are able to touch a nerve in others—to communicate something that we all feel so clearly, but we aren't always able to express. Those people don't come along often. That magic, that genius, is really rare.
How do you keep from getting sick of songs that you've played for years but you know fans love? You mean keeping it fresh? We certainly have times when we get sick of things, but you know, a good song is a good song. It just raises your personal being. If I've got a great song, I'm gonna give it what it deserves. The song ends up dictating itself, and I make sure it give it the respect it deserves.
What do you think musicians need to bring on the road to survive a long tour? Oh gosh. I don't know, that's a tough one…a good pair of pajamas and your teddy bear, I guess. [Laughs]. It's very stressful on the road, so you gotta do all the stuff your grandmother told you to do: make sure you eat right, get enough sleep, and get a lot of exercise.
I know Steven Tyler is working on a new album, what does the future hold for you after this tour? Are you doing anything with Whitford/St. Holmes or the Joe Perry Project? I actually have a new album in the works right now—Whitford/St. Holmes is doing our second album. We just about have that finished, and we're going out on the road to tour in November. We're making the album ourselves, so we're not exactly sure when and where it's gonna get out. It's me and Derek St. Holmes, and we have Troy Lucketta, the drummer from Tesla, and Buck Johnson, who plays keyboard and sings backup vocals for Aerosmith.
Will your new album come out this year? Oh yeah.
Last question: What's the weirdest thing you've ever worn on stage? I had this really terrible blue lamé shirt. I think I actually wore it on a television talk show. Glam rock was happening at that period, and it was a little too glam rock. It was pretty embarrassing.
Was it comfortable at least, or was it itchy and awkward? No, it was comfortable.
Well that's a plus. At least you can use it for pajamas then!
[Laughs] Very true!
4•1•1
Aerosmith and Living Colour play Tuesday, July 7, at 6:30 p.m., at the S.B. Bowl (1122 N. Milpas St.) For tickets and information, call (805) 962-7411 or visit sbbowl.com.